Pussy Riot member Tolokonnikova being moved to new prison – officials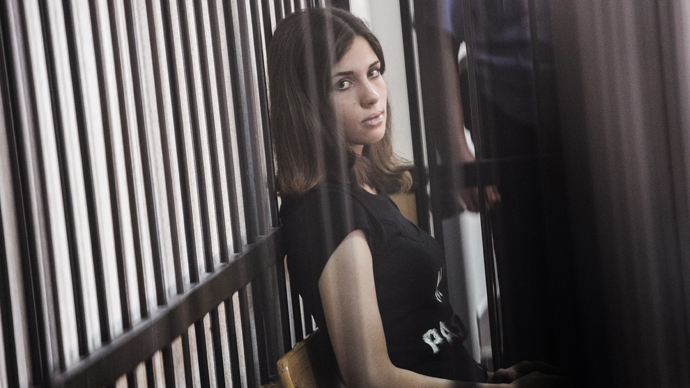 Pussy Riot member Nadezhda Tolokonnikova is being moved to a new location which will soon be disclosed to her family, Russian prison officials said Saturday. Tolokonnikova has not been heard from in 13 days.
"According to a decision made by FSIN [Russia's Federal Penitentiary Service] in regards to changing Nadezhda Tolokonnikova's location: she is currently being moved to a different correctional facility," an FSIN official told Interfax news agency.
The location of the prisoner cannot be disclosed to anyone apart from close relatives, according to Russian law. 
"Upon arrival to a particular institution, one of the relatives, chosen by Tolokonnikova, will be given the information," the official said. 
Tolokonnikova's husband, Pyotr Verzilov, said he has yet to be informed of his wife's whereabouts. "Today is the thirteenth day of complete lack of communication with Nadezhda Tolokonnikova," he told Interfax on Saturday. 
The jailed member of Russia's Pussy Riot punk band began a hunger strike on September 23 to protest "slave labor" in her penal colony. She also claims she received death threats from a senior colony official. The official in turn said he was blackmailed by Tolokonnikova's husband and lawyer.
Tolokonnikova ended the hunger strike on October 1 after FSIN promised to move her to a different correctional facility. Authorities officially announced on October 21 that the prisoner would be moved, stating that her whereabouts would be disclosed to a family member upon arrival. 
The 23-year-old was sentenced to two years in jail in August 2012, along with two other band members, after performing what they called a "punk prayer" in Russia's main Orthodox cathedral. The court found them guilty of aggravated hooliganism and religious hatred for staging their 'Mother of God drive Putin away' stunt in Moscow's Christ the Savior cathedral in February 2012.