Jailed Pussy Riot member goes on hunger strike to protest against 'slave labor'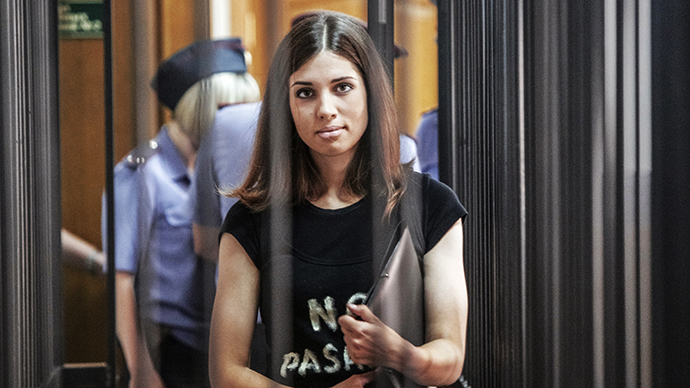 A jailed member of Russia's Pussy Riot punk band has started a hunger strike to protest "slave labor" in her penal colony, claiming she received death threats from a senior colony official, who in turn said he was blackmailed by her husband and lawyer.
23-year-old Nadezhda Tolokonnikova, along with two other band members, was sentenced to two years in jail in August 2012 after performing what they called a "punk prayer" in a landmark Moscow cathedral. The court found them guilty of aggravated hooliganism and religious hatred for staging their 'Mother of God drive Putin away' stunt in the Christ the Savior cathedral in February 2012.

Mother to a five-year-old daughter, Tolokonnikova is currently in Penal Colony No.14  in the Mordovia region, 400 kilometers southeast of Moscow.

"Beginning September 23, I am going on hunger strike. It's an extreme method, but I am fully convinced that this is the only way out of my current situation," Tolokonnikova wrote in a letter, released to the media.

"I demand that the colony administration respect human rights, I demand that the law in the Mordovia camp is observed. I demand that we are treated like human beings, not slaves," she wrote.  Tolokonnikova claims inmates are forced to work up to 17 hours a day sewing police uniforms.

"My brigade in the sewing shop works 16-17 hours per day, from 7.30 am to 00.30am. In the best case scenario, you will sleep about 4 hours. There's a day-off once in 40 days. We work almost every Sunday. Prisoners submit petitions to work on weekends "by choice." In reality, of course, nobody wants to [work]. But these petitions are written on the order of the administration, under pressure from the convicts broadcasting the will of their superiors," she said.

In late July the supreme court of Mordovia confirmed that Tolokonnikova must continue to serve her sentence after the lower court rejected her request for parole. The district court explained the refusal by the remands and negative reports on the prisoner from the penal colony's administration.

Tolokonnikova says Mordovia penal colonies are notorious among prisoners, a fact she was aware of even before she was sent there.  

"As the convicts here say, 'Those who never did time in the Mordovia jail, never did time at all'. I started hearing about the Mordovia prison colonies while I was still held at the Pre-Trial Detention Centre No 6 in Moscow. They have the toughest levels of security, the longest working hours, and the worst rights violation. When they send you off to Mordovia, it's as if you're headed to the scaffold. Until the very last moment, you keep hoping 'Maybe, they won't send you to Mordovia? Maybe it will blow over?"' Nothing blew over, and in the fall of 2012, I arrived at the camp region on the banks of the Partsa River," she said.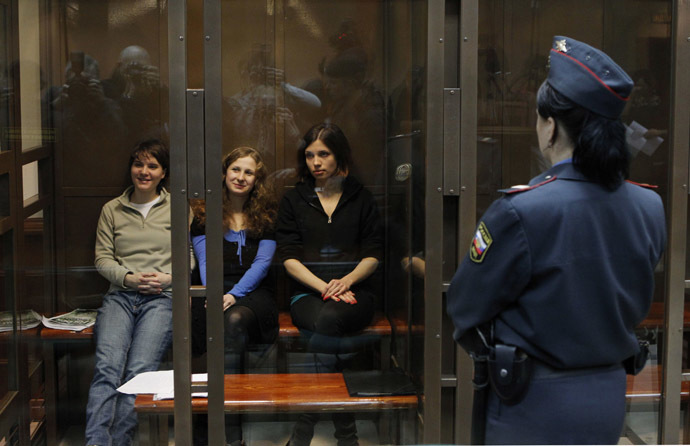 Tolokonnikova recalls that Mordovia greeted her with the words of the deputy head of the penal colony, Lieutenant Colonel Kupriyanov, who is the de facto head of our colony: "'For your knowledge, I'm a Stalinist by my political views,'" he allegedly told her. 
Tolokonnikova, who has been in the Mordovia camp in central Russia for a year, claims she received a death threat from the camp's deputy head after she complained of the working conditions. Soon after, she allegedly began to receive threats from other inmates.

Tolokonnikova said the prison administration tried to pit her against other fellow prisoners. She claims some women she was friends with were punished for drinking tea with her.

Tolokonnikova alleged that to maintain discipline and obedience, a system of "unofficial punishments" is widely used. According to her, sometimes a prisoner is "forbidden to go into the barracks, whether it's autumn or winter; forbidden to wash themselves or use the bathroom, to eat their own food, or drink beverages…"

"Dreaming only of sleep and a sip of tea, the harassed prisoner – exhausted and dirty –  becomes obedient putty in the hands of the administration, which considers us merely free labor power. In June, my salary was 29 (twenty-nine!) rubles [about $1]. Meanwhile, our brigade sews 150 police uniforms per day. Where does the money they get for them go?" she wrote in her letter.

Regime victim or political provocateur?
Meanwhile, the press office of the Federal Penitentiary Service (FSIN) claims that Tolokonnikova's husband Pyotr Verzilov and her defense attorney Irina Khrunova blackmailed the deputy head of the colony of Mordovia.

Verzilov and Khrunova allegedly asked the deputy head of the colony Kupriyanov to transfer Tolokonnikova to a different brigade, so that she could work in an arts shop. If he refused to transfer her, they allegedly promised to send a statement to the prosecutor's office claiming that Tolokonnikova had received a death threat from Kupriyanov.

In response Kupriyanov refused to satisfy the demand and filed a complaint that he was "impelled to commit official malfeasance".  

The Public Supervisory Commission in the region insists the Pussy Riot band member exaggerates when writing about 16-17-hour working days.

"It never happened anywhere," Commission's chairman Gennady Morozov said. "Colonies are being checked regularly by the prosecutor's office, by the head of FSIN, and human rights [groups]. There have never been such complains."

Morozov personally met Tolokonnikova on Monday and said the woman "worked mornings" (her shift starts at 8am and finishes at 04:00 pm) and then she "suddenly filed the paper [about hungerstriking]". The FSIN press-office said she had breakfast and announced the strike at 11:45 local time (07:45 GMT).

The Commission said it will check all complaints, but is "sure that none of them will be confirmed".

You can share this story on social media: