Three US soldiers slain by 'Afghan cop'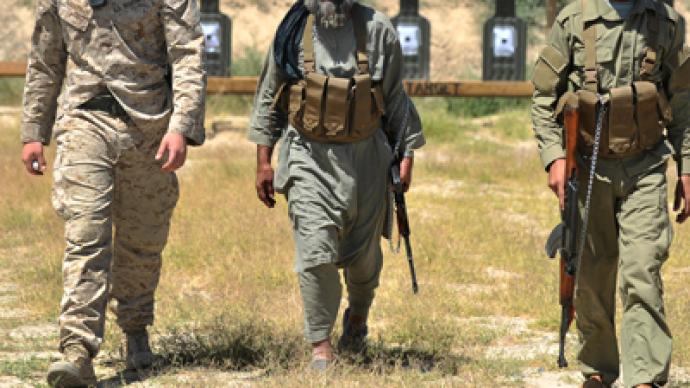 A gunman wearing an Afghan uniform has shot dead three US Special Forces troops in southern Afghanistan. With Afghan security forces increasingly targeting NATO troops, is a Taliban takeover coming or are local grievances simply boiling over?
The three slain soldiers were reportedly tasked with overseeing the training and recruitment of local Afghan police. They had been invited to dinner to discuss security in the Sangin district of Helmand Province on Thursday evening."During dinner, the police commander and his colleagues shot them and then fled. The commander was Afghan National Police in charge of local police in Sangin," a senior Afghan official told Reuters on condition of anonymity."It looks like he had drawn up a plan to kill them previously," the official continued. However, another district official said that it was not the Afghan police who opened fire on the US troops. Rather, they informed nearby Taliban fighters who ambushed the Americans upon sitting down to break the Ramadan fast with their local host, the UK Telegraph reports.The Taliban for their part claimed responsibility for the attack, with their spokesman Qari Yousef Ahmadi saying the attacker – a commander of a Helmand province checkpoint identified as Asadullah – shot down the soldiers and then fled to join the militants.An International Security Assistance Force (ISAF) spokesman said it was too early to determine if the attacker was a rogue gunmen or an insurgent who had infiltrated the Afghan security forces."All we know is that they were killed by an Afghan in a uniform of some sort," the spokeswoman said.The Thursday evening ambush is the third attack on US forces this week, with eight Americans, including one civilian working for the US state department, being killed.Three US soldiers and a USAID worker were killed by a suicide bomber in the eastern province of Kunar on Wednesday morning.On Tuesday, two members of the Afghan National Army opened fire on NATO troops, killing a US service member and wounding two others.A British soldier was also killed during an insurgent attack on Friday, NATO said.Thursday's shooting will bring the total number of "green-on-blue" incidents – attacks by Afghan security forces on NATO forces – to 24 since January. Twenty-eight soldiers have reportedly been killed this year in such attacks, excluding the three US soldiers killed Thursday evening.Cases of Afghan police and soldiers turning their guns on coalition troops have seriously undermined trust between allied forces in the run up to the planned 2014 troop withdrawal.However, while the Taliban regularly claims to have infiltrated Afghan security forces, CBS News reported last July that the US Department of Defense maintains the attacks are not carried out by insurgents."Investigations have determined that a large majority of green-on-blue attacks are not attributable to insurgent infiltration of the ANSF (Afghan National Security Forces), but are due to isolated personal grievances against coalition personnel," the report said. "There is no indication that these recent attacks are part of a deliberate effort by insurgents, nor were they coordinated with each other."Recruiting policies for Afghan security forces were said to have been tightened to weed out locals with an ax to grind against coalition forces.However, given that ISAF forces primary focus is preparing local forces for the security transition, the fact that green-on-blue attacks are only on the rise remains especially troublesome for the NATO mission.
You can share this story on social media: