US soldier shot and killed by man in Afghan Army uniform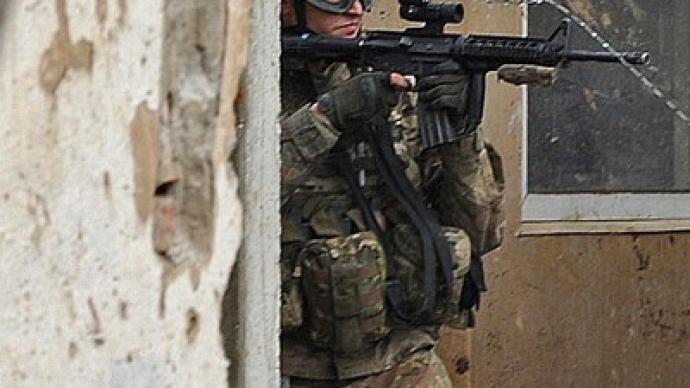 An American soldier was shot and killed in Kabul late Wednesday by a man dressed in an Afghan army uniform, NATO confirms.
In a statement issued early Thursday by NATO's International Security Assistance force (ISAF), the agency confirms that one US soldier was executed in Kabul, Afghanistan by a man presumed to be fighting for the foreign military."An individual wearing an Afghan National Army uniform turned his weapon against coalition service members in southern Afghanistan late yesterday, killing one service member," reads the statement distributed by the ISAF. The NATO release adds that "The individual who opened fire was killed when coalition forces returned fire."Wednesday's incident is the latest case of gunfire erupting between Americans and Afghans even as the US is in the works to exit their overseas war after over a decade of fighting. Despite a promise from the White House that America's combat operations will soon be subdued, a series of events within the last year have worsened anti-US sentiments and caused international outrage over not just how the military operates abroad, but how the Pentagon's top-brass are allowing such incidents to continue.Earlier this month, a poll published by ABC News and the Washington Post revealed that the American public's support of the war in Afghanistan is at its lowest since it began in late 2001. Support for the war in Afghanistan is at 30 percent, 3 points below than the last lowest point on record.Although America's involvement in fighting insurgency in Afghanistan is expected to wrap up within two years' time, events that have occurred within the last few months have only led some to suggest an even quicker exit strategy. A video uploaded to YouTube in January showed US troops urinating on the bodies of dead Afghans, which was followed in February with an incident in the Kandahar province in which soldiers were reported to be charring and destroying copies of the Quran, the Muslim holy book. In March, US Staff Sgt. Robert Bales was apprehended by American officers after being alleged to be responsible for conducting a massacre near Kandahar, killing 16 civilians.As the US-Afghan relationship worsens, in recent months American authorities signed away the management rights to a Bagram prison back to residents there. Following the Kandahar massacre, US President Obama said he is aiming to "create a responsible pathway for an exit where by the end of 2014 we'll have all our troops out."
You can share this story on social media: