Turkish protesters urge PM's resignation as graft scandal shakes govt (VIDEOS, PHOTOS)
Thousands of demonstrators took to Turkey's streets demanding the resignation of Prime Minister Recep Tayyip Erdogan, amid a growing corruption scandal rattling his government. Clashes with police erupted in Istanbul, where protesters were teargased.
Over 5,000 people rallied in Istanbul, mainly in the Kadikoy district and in the Besiktas district on Wednesday night, according to AFP. Protests have also taken place in the capital of Ankara, as well as in Izmir and other cities.
Police in Istanbul fired tear gas to disperse the demonstrators. At least four people have been arrested, according to the Firat news agency.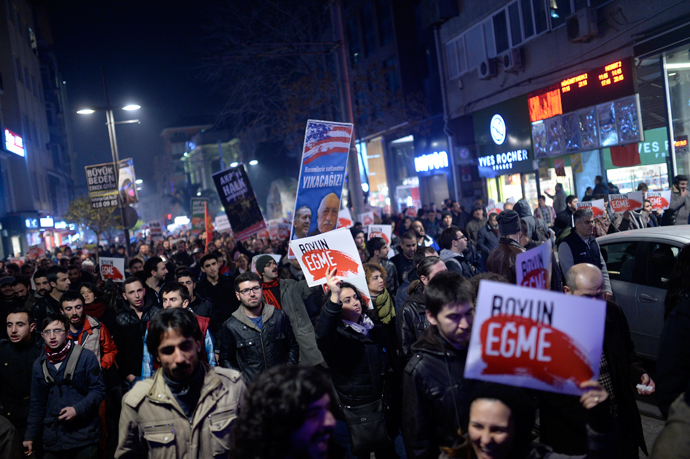 Late on Wednesday, Erdogan announced a major cabinet reshuffle, replacing 10 key ministers. This came soon after the resignation of the interior, economy, and environment ministers over a high profile corruption investigation, in which the sons of all three ministers are implicated. Environment Minister Erdogan Bayraktar, one of the ministers who resigned, turned against the Turkish leader, urging him to step down.
The scandal and ensuing feud between Erdogan and the judiciary have during the past week reignited anti-government protests against Erdogan's 11-year rule.
The protesters rallying in Istanbul have been shouting slogans such as: "Three ministers' resignation is not enough, the whole government should resign," as well as " corruption is everywhere" and "resistance is everywhere", Xinhua reported.
Gaz. Kadıköy. Bahariye. An. pic.twitter.com/8Ho3kfmMgq

— özcan yüksek (@ozcanyuksek) December 25, 2013
More than 10 political parties and organizations have called for protest.
Turkey's prime minister believes the corruption and bribery probe, which undermined his government, is directed against him.
However, he told a group of journalists on Thursday that anyone attempting to enmesh him in the scandal would be "left empty handed," according to Hurriyet, cited by AP.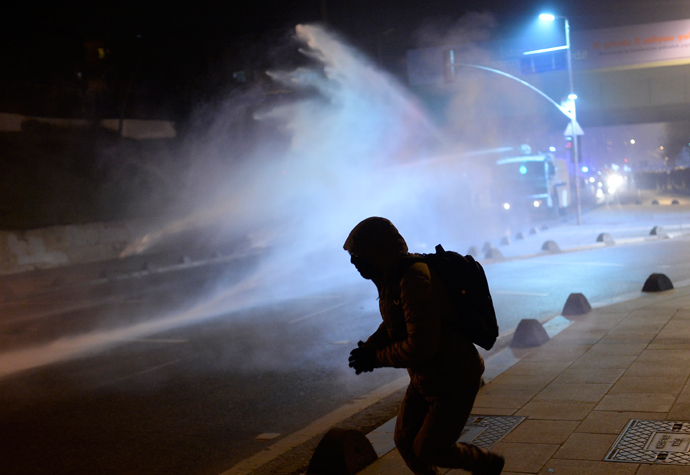 The cabinet reshuffle Erdogan announced includes appointing loyalist, Efkan Ala, as interior minister. This prompted the opposition to accuse the PM of moving towards authoritarian rule. Erdogan's critics have used the term "deep state", which for the Turks means a shadowy power structure.
"He (Erdogan) is trying to put together a cabinet that will not show any opposition to him. In this context, Efkan Ala has a key role," Kemal Kilicdaroglu, the head of the biggest opposition party CHP, said as cited by Reuters. "Erdogan has a 'deep state', (his) AK Party has a 'deep state' and Efkan Ala is one of the elements of that 'deep state'."
The opposition believes that by appointing Ala as head of the Interior Ministry, Erdogan is taking the police under his control. Earlier, the outgoing Interior Minister Muammer Guler carried out a significant purge within law enforcement ranks by firing up to 550 police officers, including senior commanders.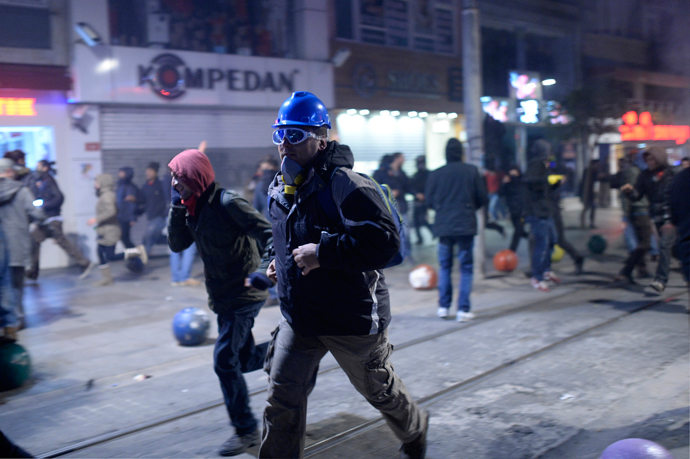 On Thursday, Turkish prosecutor Muammer Akkas said he had been prevented from expanding the high-level graft investigation, alleging that the judiciary was subjected to open pressure.
"All my colleagues and the public should be aware that I, as public prosecutor, have been prevented from launching an investigation," Akkas said in a statement. The comment comes just one day after he reportedly ordered the detention of 30 more suspects in the high-profile case, including ruling party MPs and businessmen.
"Despite a meeting with the [Istanbul] police chiefs who would oversee the operation at the court building, I found out that the court order and the detention decision had not been implemented," Akkas said. He added that the judiciary was subjected to "clear pressure from both the [Istanbul] chief prosecutor's office and the justice police who are entitled to obey court orders."
The prosecutor stated that by disobeying court orders, police chiefs committed an offense which allowed suspects to "take precautions, flee and get rid of evidence."
No names of the accused were given in the statement, according to Reuters.
In response to the charges, Turkey's chief prosecutor, Turhan Colakkadi, said that prosecutors are not entitled to begin "random investigations." Colakkadi also claimed that Akkas was removed from the investigation because he leaked information to the media and mishandled the proceedings.
However, the country's Higher Board of Judges and Prosecutors has come out in support of Akkas.
"In case of illegal actions, judicial checks on rulers are an essential part of the democratic state governed by rule of law," the body said.
You can share this story on social media: