'Capital of torture': Bahraini Shiite majority demands democratic rule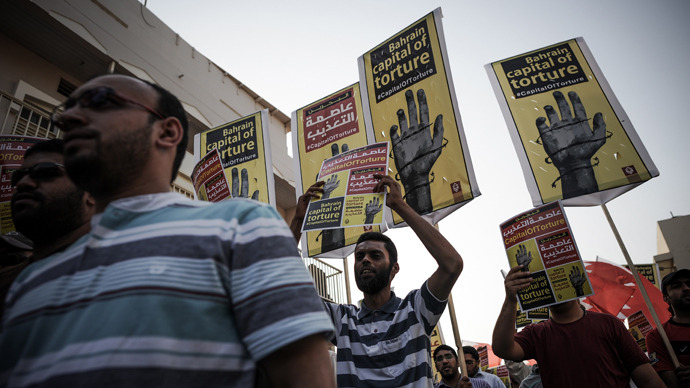 Thousands of anti-government activists flocked to the streets of the Shiite village of Daih in Bahrain to protest against the torture of victims arrested by the minority Sunni-ruled monarchy.
The frustrated mob held up signs that read: "Manama, capital of torture," and waved the national flag.

"Torture is a practice rooted in the security agencies," in Bahrain, the main Shiite opposition bloc Al-Wefaq said in a statement. It added that these practice were "embedded in the security doctrine - corrupt and hostile to the citizens."

The organization also highlighted the rift between Sunni-ruled monarchy and Shiites saying "a political majority demanding a democratic transition and a hard core dictatorship that refuses any change and respond to the popular will."

The demonstration comes just days after the start of the international campaign under the title "Bahrain capital of torture."

On Wednesday, Bahrain Forum for Human Rights in Beirut announced the details of the international campaign against torture in prisons on the island.
It also accused the authorities of arresting 120 people during the period between 16 - April 22.

Human rights delegates condemned the use of force on citizens and the media blackout on the repression.

Also on Wednesday, the parliament in Bahrain was presented with a bill that would impose further restrictions on demonstrations. The new law would require organizers to submit a warranty check of more than $50,000 before holding a rally. It would also allow any resident to block a petition.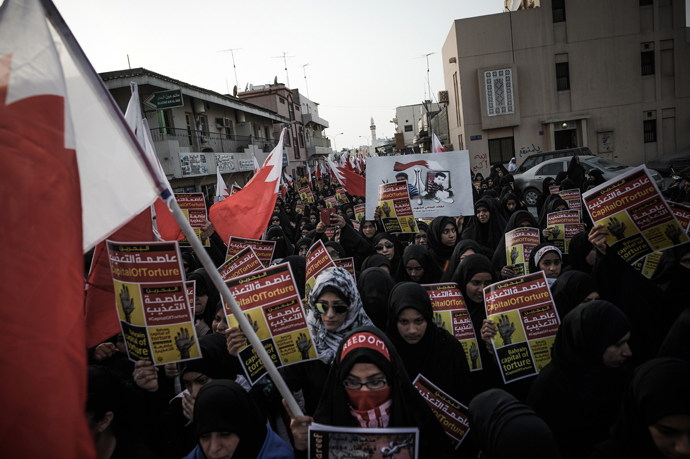 In late April, Bahrain has unilaterally cancelled a United Nations mission to Manama to assess the country's progress in eliminating torture.
In 2011, a government-commissioned report found evidence of torture and human rights violations committed by the government forces committed during an uprising that year.
Bahrain – home to the US Navy's Fifth Fleet – is ruled by a Sunni monarchy, while over 75 percent of the population is Shia. In February 2011, thousands of protesters swarmed the streets of Bahrain's capital Manama, demanding democratic reforms and the resignation of Prime Minister Sheikh Khalifa bin Salman al-Khalifa. The island's monarchy asked for Saudi Arabian troops to contain the violence, which according human rights groups' estimates has resulted in at least 80 deaths.