Several thousand march against austerity in Madrid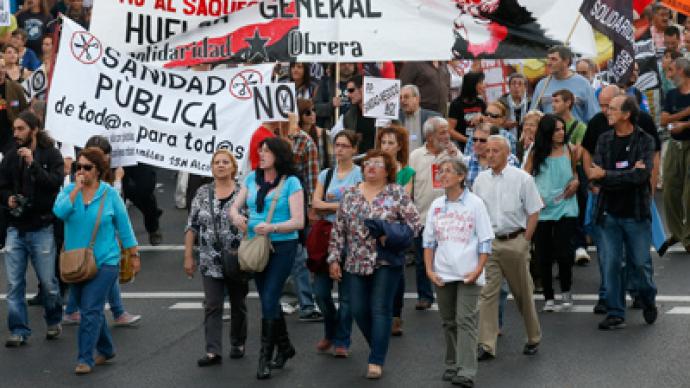 Several thousand demonstrators have taken to the streets of Madrid to protest against public health and education cuts as the Spanish economy is experiencing its second recession, with the highest level of unemployment in the eurozone.
The protesters marched through central Madrid on Saturday, holding banners reading "Neither cuts nor privatizations." Many demonstrators were civil servants who will face a wage freeze next year."I work in a hospital, but I'm about to end up unemployed," 58-year-old nurse Victoria Gutierrez told AP. "On Oct. 30, my temporary contract will finish and it won't be extended. We have minimum cover on every floor at every hospital," she said. "This is affecting not just hospitals, also education and civil services, everything."Spain is facing one of the toughest situations amongst the crisis-hit European nations. The unemployment rate there has been recorded at 25.1 per cent – the highest in the eurozone. Youth unemployment stands at a staggering 52.9 per cent.Last week the European Commission urged governments and businesses across the eurozone to act to try to avoid the "disaster" of "a lost generation".Saturday's march comes after sporadic clashes broke over a week ago between anti-austerity protesters and police in central Madrid. Three separate rallies took place in just five days, with dozens being injured as riot police moved in to clear the Plaza de Neptune.