'Stop hitting the weakest': Italian workers kickoff anti-austerity general strike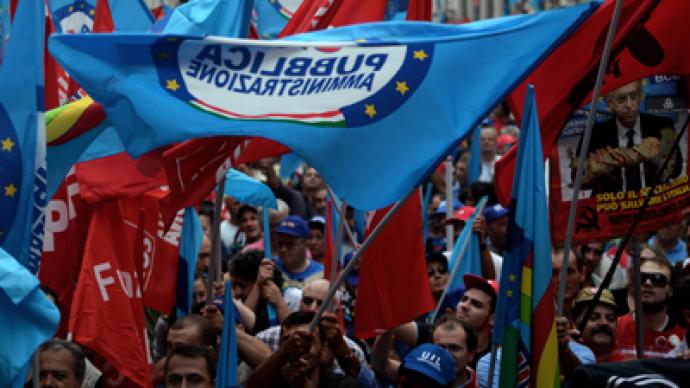 Up to 30,000 members of two of Italy's biggest unions gathered for a general strike in Rome, protesting recent austerity measures. The demonstration came days after crowds hit the streets of Athens and Madrid for similar protests.
Throngs of protesters – ranging from university professors, public administration and health employees, and garbage collectors – took to the streets of Italy on Friday as part of a strike organized by the Italian General Confederation of Labor (CGIL) and the Italian Union of Labor (UIL)."Stop hitting the weakest. We have already given enough," the unions wrote on their websites. Staff at the Colosseum and the Roman Forum walked off their jobs, causing two of the city's major tourist attractions to close. The demonstrators rallied against the austerity measures enacted in August by Prime Minister Mario Monti. Italy will make further cuts this year totaling 4.5 billion euros in an attempt to balance the country's budget deficit. An estimated 26 billion euros in spending cuts are planned for the next three years, with 10.9 billion in cuts next year and 11.7 billion in 2014.The measures adopted in August include cutbacks in public sector payrolls and investment, and cuts in state healthcare. Salary increases for state workers were also frozen for two years."We are here to protest against Monti's politics, because up until now he has just made the weakest pay," CGIL union member Pio Zappaterreno told Reuters.Unemployment in Italy has soared, reaching 10.7 percent in July – the country's highest rate in the last eight years.The Italian government has struggled for the past few years with the financial crisis gripping the eurozone. Former Prime Minister Silvio Berlusconi was forced to resign last November, and Monti came to power with a mandate to fix Italy's economic depression. His government is now struggling to prevent a Greece-style debt disaster from hitting the EU's fourth-largest economy.
Demonstrations like dominos
The general strike in Italy came days after violent clashes erupted in Spain and Greece during anti-austerity demonstrations.In Athens on Wednesday, police fired tear gas as a group of demonstrators lobbed Molotov cocktails and started a fire in a nearby park.At the same time, demonstrations in Madrid saw thousands protesting against austerity measures in Spain. Tensions also ran high during the protest, with police used batons and rubber bullets to disperse crowds.