The right to eat: Earth faces starvation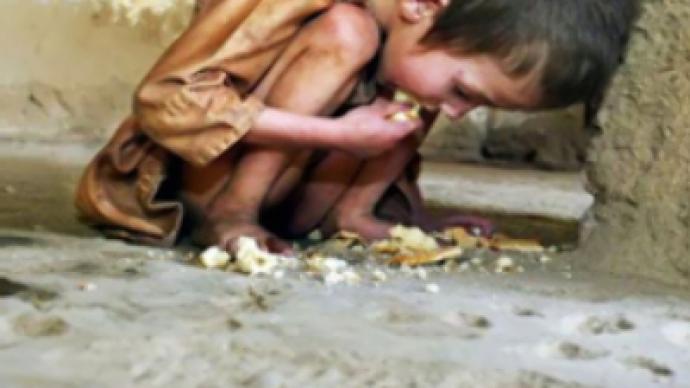 More people – less food. This is what the world is heading into: millions are already dying from hunger, and this figure is set to increase tenfold if food and agriculture policies of mankind stay the same.
With over 923 million hungry people in the world, the food and agricultural crisis currently underway in many parts of the world will only become bigger and ever more encompassing. This is the warning from the Food and Agriculture Organisation (FAO) that has urgently called on the international community to help curb the world's next big crisis: food scarcity.
Drastic food and gas price increases, coupled with agricultural shortfalls due to climate disasters, and the more recent global financial crisis, are factors that have triggered an unprecedented food emergency in 36 countries in Africa, Asia and South America. These new challenges threaten sustainable food security worldwide.
The urgency to tackle such issues and put an end to hunger in the world spurred member countries of the United Nation's Food and Agriculture Organization to hold a special conference from November 18 to 22 in Rome, Italy.*
What have we got on the plate?
In an inaugural speech on the first day of the conference, FAO Director-General Jacques Diouf stated that the food crisis in 2007 that was caused by higher commodity prices further deteriorated the world food situation, creating 75 million more hungry people across the globe. In light of unprecedented global population growth, Diouf said the world needed to double food production by 2050 in order to feed an estimated population of nine billion people, compared to today's 6.6 billion.
Recent surges in food, fertilizer and gas prices have put added pressure on agricultural output, making it difficult for the world's farmers to increase, or even maintain, current food supply levels. According to Diouf, the more recent financial and economic crisis has eclipsed the mounting food crisis as national governments have been concentrating on tackling tumbling stock markets and ailing banks, rather than focusing on curbing escalating hunger levels.
"The food crisis requires the same level of attention. It has economic, social and ethical ramifications, but is also clearly a threat to world peace and security", Diouf stated. FAO's goal of eradicating hunger from the world requires urgent action not only for ethical reasons, but for socio-political ones too. Because when people are hungry, they get more aggressive.
"The consequences of the food crisis are dramatic, especially for poor households and even for small producers not able to feed themselves from their home production. At the end of 2007 and the beginning of 2008, food riots caused social and political unrest in 20 countries on all continents", he maintained.
Rich and hungry
Myriad food riots and protests have flared up in both rich and poor countries. Over the past year, the spike in prices and fear of food shortages has sparked violent protests in developing countries, often threatening economic and political stability: tortilla riots broke out in Mexico, disputes over food rations occurred in West Bengal and the poor marched against grain prices in Senegal, Mauritania and other parts of Africa and Asia. In the Middle East, hundreds of Yemeni children hit the streets to proclaim their hunger, and in Haiti many people lost their lives during food riots in early 2008.
Today, however, famine has a new face. Food scarcity has historically been liked to the world's poorest and most underdeveloped countries. Still, recent food-related protests in rich, developed countries are proof that this pattern is changing. Food is on the shelves in rich countries but people are increasingly priced out of the market. Hunger and poverty are spreading across Europe and America, creating a new class of poor people in industrialized countries and urban centers.
'We must therefore avoid losing time. Actions need to be initiated as soon as this conference is over. No one must doubt the scale of the task ahead', Diouf urged.
Salvation recipe
To better tackle hunger and poverty reduction, food crises, climate change, bioenergy demands and the impact of the ongoing financial crisis on agriculture, reforms to the structure of the FAO have become absolutely necessary, Diouf said. Members at the four-day Conference, FAO member states agreed to a $42.6 million, three-year Immediate Plan of Action to enable the 63-year-old UN specialized agency to "reform with growth", said a press release at the close of the Conference.
Achieving those goals was a political and funding problem rather than a technical one, he noted, arguing that "a new world agricultural order is needed" to fix the world's ineffective food governance system.
He proposed that a World Food Summit be held in the first half of 2009 to "lay the ground for a new system of governance of world food security and agricultural trade that offers farmers, in developed and developing countries alike, the means of earning a decent living".
To successfully carry these objectives out, the Summit should also "come up with $30 billion per year to build rural infrastructure and increase agricultural productivity in the developing world".
Concluding his speech, Diouf underlined that a world "in which 1,340 billion US dollars are spent each year on armaments; and more than 3 000 billion US dollars could be found in just a few weeks in an attempt to stifle the world financial crisis", could surely amass the funds needed to eradicate world hunger and ensure the most fundamental human right: the right to food.
* The world's top agricultural advisors and delegates from the FAO's 191 member nations converged on the city of Rome at the 35th special session of the United Nation's Food and Agriculture Organization conference to brainstorm ways to harness such a fast-moving food crisis before it spins out of control.
Discussions focused on identifying, developing and implementing the necessary policies at national, regional and international levels to ensure food security in the world. These policies are aimed at yielding sustainable solutions over the medium and long-term. Participants also approved exhaustive reforms to the structure and functioning of the FAO.

Brenda Dionisi for RT
You can share this story on social media: