Italy wraps up its round up of the Roma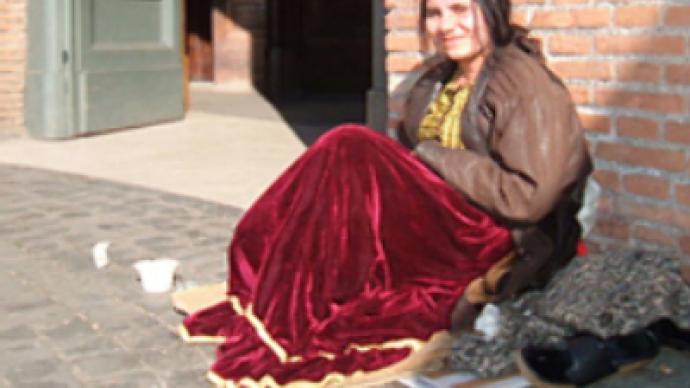 Widespread negative public opinion of Roma gypsies recently prompted Italy's conservative government to launch a controversial profiling campaign as part of a pledge to crack down on street crime and curb crime levels.
The internationally condemned measure, which included the fingerprinting and photographing of Roma minors and adults living in nomadic camps across the country, received enormous support from Italians, who have increasingly expressed fears over a rise in violent crimes committed by illegal immigrants, and gypsies, in particular.
Roma gypsies are routinely accused of, stealing, prostitution and child abduction, as well as a range of petty crimes, and their camps are widely seen as a breeding ground for crime and violence, where Roma children are 'trained' to become habitual criminals.
A survey conducted in May 2008 by Italian daily, La Repubblica, revealed that 75 per cent of Italians thought "nomads" were "a problem". Most believed that the best way to deal with the gypsy problem was to "clear out gypsy camps and expel those found there". Increasing intolerance among Italians has triggered a number of violent acts against gypsies. From April to July 2008, an estimated eight gypsy camps were razed to the ground in arson attacks.
Such ethnic intolerance soon permeated policymaking. At the height of the Roma profiling scheme in August 2008, police and soldiers routinely entered camps unannounced. They took fingerprints and photos of inhabitants, including minors, and expelled those without valid identification or permits. On several occasions, they forcibly evicted the members of illegal settlements, destroying their homes and personal possessions without offering assistance or providing alternative housing.
"They would come in the middle of the night, make us get out of bed and ask to see our identification. It was horrible. Why can't they come once to see if we need help or to bring us clean water? Italians think we are all criminals and treat us badly, but it's not true", says a female inhabitant of one of Rome's oldest and biggest settlements, the Casilina 900.
Most Italians who live near gypsy camps are against them, claiming they pose health risks. A woman who lives near a gypsy camp on the outskirts of Rome maintains, "They constantly burn their trash and other waste. It is toxic for the rest of us who live in the area. The camp is dirty and ugly. They should be given an area to live in that has sanitary facilities and basic services".
Almost from the start, Italy's census and fingerprinting scheme was admonished worldwide for being ethnically-based and discriminatory. From Roma activists to the United Nations and the Catholic Church, opponents of the campaign launched stinging accusations of xenophobia.
For months, the European Commission put pressure on Italy to carry out its profiling scheme in accordance with human rights laws, forcing policymakers to put an end to their fingerprinting and expulsion campaigns. In a complete policy turnaround, majority leaders now claim their main aim is to put gypsy children in schools and provide sustainable housing for gypsies living in unauthorised settlements.
Fact Box:
• Approximately 160,000 Roma live in Italy, 70,000 of whom are Italian citizens.
• Approximately one third of Italy's Roma live in illegal settlements that lack running water, electricity and adequate sanitary facilities. Many of these Roma, often referred to as 'gypsies' or 'nomads', do not have residency permits.
• Running from July 15 to October 15, the Roma census was carried out in 167 camps in Rome, Naples and Milan (124 unauthorised camps; 43 authorised camps) by members of the Italian Red Cross.
• Census data shows that 5,436 camp inhabitants are children, only 20 per cent of whom have had basic schooling.
• Italian officials estimate that some 13,000 gypsies have fled the country, in an effort to 'avoid identification'.
Brenda Dionisi for RT
You can share this story on social media: