Italian education cuts spark massive protests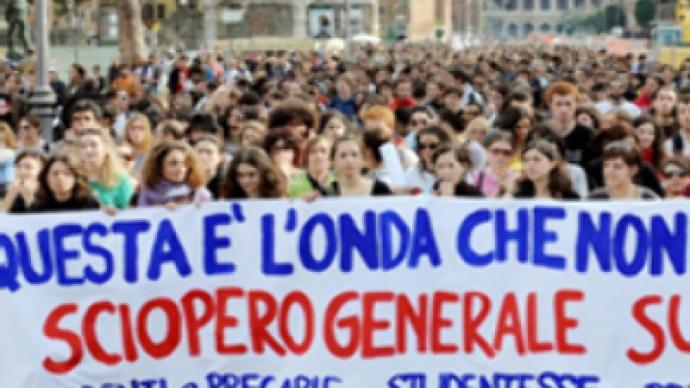 Students across Italy have been engaged in a month of ongoing nationwide protests against a series of sweeping budget cuts that threaten to annihilate the public education system. School protests have become contagious, with working class people joining p
Cuts to all levels of education nationally has spurred millions of elementary, high school and university students alongside their parents and teachers to hit squares and city streets in one of the most all-encompassing examples of spontaneous collective action and social discord in Italy's recent history.
Although the majority of student marches, sit-ins and school occupations have been peaceful, several protests were marred by violence among demonstrators and clashes with police. For the most part, protests have besieged city streets and railway stations, forming blockades and crippling car and train traffic for hours, and even days, on end.
Beginning last September, protests exploded across Italy as government leaders announced they would lay off some 80,000 teachers and reduce school hours from 40 a week to 24.
Not only would job cuts would create thousands more precarious and unemployed teachers, the reduced school hours would cause serious problems for working parents, who already face the trying task of balancing work and family responsibilities.
"As a working mother I have two options: work less, and consequentially make less money so that I can tend to my children who will now be out of school at 12:30pm, or find full-time work only to pay for a babysitter every afternoon", says one angry mother with two elementary school children. "These cuts are lose-lose situation for everyone involved, especially our children who will get less schooling."
Within weeks, protests quickly multiplied throughout Italy, attracting thousands who also face a 1.5 billion euro cut to higher education over the next five years. "All we want is to defend our right to study, a right that is granted by the Italian constitution," says a 23-year-old economics undergraduate in Florence.
At the height of the protests in mid-October, the Italian daily La Repubblica reported that over 150 state schools and 20 university faculties were occupied, and some 300 protests were held over a period of 23 days. In many marches, university students mourned the 'death' of state education by sporting black clothes, cardboard coffins and wearing 'for sale' signs.
Factory workers across the country showed their solidarity to the growing student movement by joining protests. Many professors are holding open-air lectures in Italy's central squares and other public areas, and students are preparing protest handouts in several languages to demystify bewildered tourists and concerned citizens on the cause.
Primary school educators and teachers' unions held an official nationwide strike on October 30 mobilizing hundreds of thousands. A walkout by university students is scheduled on November 14 and threatens to be just as big. More importantly, the will of student protesters shows no sign of waning anytime soon.
Brenda Dionisi for RT
You can share this story on social media: