World's 10 most scandalous divorces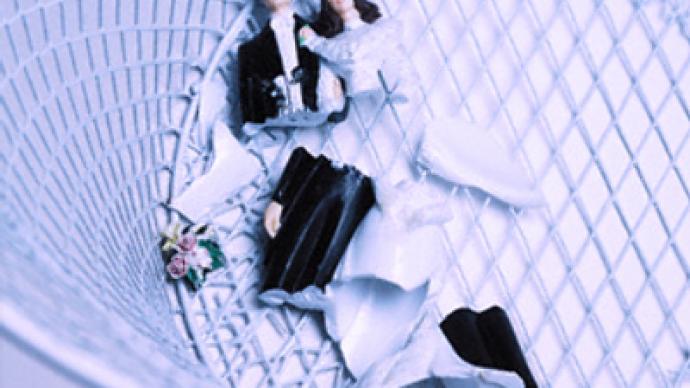 How Abramovich, McCartney, Henry VIII and Napoleon parted with their significant others.
Roman & Irina Abramovich
News of the Russian billionaire Roman Abramovich's divorce led to speculation that his wife was in for a record-breaking settlement. But the low-key, and apparently amicable, separation has left the world guessing. Abramovich met Irina Malandina on a plane when she worked as an Aeroflot flight attendant. They married in 1991, and had five children together. Of humble upbringing and fond of the arts, despite her wealthy existence, Irina has shunned the spotlight. The cause of the couple's split was claimed to be the tycoon's affair with Daria Zhukova, a fashion designer and daughter of another London-based oligarch. The Abramovich couple never had a prenuptial agreement and divorced in Russia in 2007. They agreed about the custody of their children and a financial settlement. Although some publications cited the figure of $300 million, no details were made public.
Paul McCartney & Heather Mills
The bitter divorce saga between Paul Mccartney and his estranged wife Heather Mills sent the media into a frenzy. McCartney and Mills married in 2002 after meeting at a charity event. Despite reports of their turbulent relationship, they initially described their 2006 split as amicable. But a messy and very public divorce followed. The ex-model, McCartney's second wife, had originally sought an award of nearly $250 million, while the former Beatle proposed some $32 million. Mills has since said the media coverage of their divorce was unfair to her and drove her to the verge of suicide. She eventually walked away with some $50 million. McCartney will also have to cover maintenance for the couple's daughter, Beatrice. Mills threw a glass of water over the hair of Sir Paul's lawyer before emerging from court to say that she was profoundly satisfied with the result.
Prince Charles & Diana Spencer
It was billed as a fairytale wedding, watched by a global television audience of nearly one billion. Prince Charles, heir to the British throne, and Lady Diana Spencer married on July 29, 1981, in a grand ceremony at London's St. Paul's Cathedral. Their first child, Prince William, was born in 1982 and their second, Prince Harry, two years later. But their fairytale's last page was written by lawyers. Before long, the royal couple grew apart, and in 1992, Diana and Charles announced a separation. The Princess blamed Charles' relationship with Camilla Parker Bowles for the demise of their marriage – in 1994 Charles admitted adultery in a TV interview. The couple formally divorced in 1996. Diana gave up the title of Her Royal Highness and any future claims to the British throne. The Princess of Wales was killed in a car accident in Paris a year later. Prince Charles married Camilla Parker Bowles in 2005.
Richard Burton & Elizabeth Taylor
The two movie stars had a long and torrid romance that ended in divorce not once but twice. Elizabeth Taylor and Richard Burton first met when they were starring together in "Cleopatra" in 1963. Their onscreen romance fast turned into a tempestuous off-screen love affair that made as many headlines as the film itself. They married the next year – Richard Burton became Elizabeth's fifth husband, she was his second wife. The union led to an acting partnership that propelled Burton to the top rank of stardom and won Taylor her second Best Actress Oscar. He showered her with expensive jewellery – by far the best known of his well-publicised gifts was a massive pear-shaped jewel, later called the Taylor-Burton Diamond. Their stormy relationship ended in divorce after 10 years together. The couple reconciled 16 months later and remarried in a simple ceremony in Africa only to divorce again in 1976.
Napoleon & Josephine
When Napoleon met Josephine she was a widowed mother-of-two, six years older than him. Yet, she inspired a fiery passion that made Napoleon marry her and crown her the first French Empress. Bonaparte proposed in 1796, amid staunch disapproval from his family. Josephine claimed to be 4 years younger on the marriage certificate, while Napoleon added 18 months to his age. It was a turbulent relationship, with avalanches of his love-letters and mutual infidelities, violent fights and tender reconciliations. In 1804, the couple was crowned Emperor and Empress, and Napoleon became increasingly obsessed with the need for an heir. Josephine could no longer conceive and the couple finally divorced after 13 years together. Although Napoleon soon remarried, they remained on good terms with Napoleon once having said that the only thing to come between them was her debts. One of Napoleon's last words on the Island of St. Helena was said to be Josephine's name.
Nicolas & Cecilia Sarkozy
Their marriage resembled a soap opera played out to millions of viewers. Nicolas and Cecilia's relationship had been scrutinised by the media even before he became France's President. The couple wed in 1996 and had a son together. Both were on their second marriage and had two children each from previous relationships. Yet by 2005, their union was on the rocks when Cecilia ran off to New York with an advertising executive, Richard Attias. She returned in 2006, as Sarkozy was campaigning for the presidency. In the meantime, Sarkozy was alleged to have had an affair with a French journalist. When he took office in 2007, the glamorous couple were often described as a Gallic version of the Kennedys. But Cecilia made few public appearances as First Lady, and they soon officially split. Nicolas Sarkozy became the first French President to have divorced in office. Cecilia has since become Mrs. Attias, while Sarkozy married former model Carla Bruni.
Britney Spears & Kevin Federline
Spears and Federline announced their engagement after three months of dating. The singer reportedly paid for her own diamond engagement ring. The pop star and former dancer married in 2004. Two years later it was all over, as Britney filed for divorce citing irreconcilable differences. Rumours of troubles plagued the celebrity couple from the start. Months before marrying Federline, Spears had an off-the-cuff Las Vegas wedding to a childhood friend – annulled after 55 hours. Federline already had two children from a previous relationship, one of whom was born two months before he married Spears. Their divorce in 2007 was followed by Britney's increasingly odd behaviour, including shaving off her hair, hospital spells, and a bitter battle over the custody of their two sons. In July 2008, the pair reached a settlement where Federline retains sole custody while Spears keeps her visitation rights.
Mick Jagger & Jerry Hall
Supermodel Jerry Hall was the proverbial "other woman", who broke Jagger's marriage to his first wife Bianca. Jerry and the Rolling Stone went on to have two children. Although Jagger claimed that marrying his partners would give him claustrophobia, the pair wed in a lavish Hindu ceremony in Bali in 1990. They soon had two more children. But their family boat hit choppy waters as Brazilian model Luciana Morad revealed her pregnancy and underwent a DNA test to successfully prove Jagger's fatherhood. Jerry filed for a divorce that remains one of the most heated debates in legal history. Jagger's lawyer argued that the couple had not been married in the first place since their Balinese wedding didn't have any legal standing in the UK. The case didn't proceed much after this, and Jerry reportedly walked away with $15 to $25 million. She claimed Jagger was a good father and was still her friend.
Winthrop Rockefeller and Barbara Sears Rockefeller
It was a shockingly public feud. After her divorce, Barbara Sears Rockefeller became known as the "actress with a famous divorce settlement". A coal miner's daughter turned actress, she married one of the richest men in America and after they split in 1954, won a settlement seen as a record in its day. When Barbara met Winthrop Rockefeller at a dinner party, he was considered the country's most eligible bachelor. They wed just after midnight on Valentine's Day 1948. It was described as the Cinderella wedding of the century, but the pair separated less than two years later. A very public divorce followed. Mr. Rockefeller offered a settlement of $5.5 million. Mrs. Rockefeller demanded $10 million instead, but eventually took the original sum. The divorce reportedly left her with a foolproof way of striking a good bargain. When she thought a price was too high, she'd say: "Who do you think I am, a Rockefeller?"
Henry VIII & his 6 wives
Henry VIII remains one of the most controversial English monarchs, not least because of his turbulent love life. At 17, he married Catherine of Aragon, but her failure to produce a male heir made Henry seek an annulment from the Pope. The Church of Rome wouldn't grant it, prompting the King to remove the English Church from papal authority. His second wife, Anne Boleyn, lasted only three years before her execution for alleged infidelity. She was replaced by Jane Seymour, who laid Henry's dynastic problems to rest with the birth of a son, but died a few days after. Early in 1540, Henry arranged a marriage with Anne of Cleves, but soon had the union annulled. He then married Catherine Howard, executing for adultery two years later. Henry's last wife, the wealthy widow Catherine Parr, survived him. His wives are typically remembered as: "Two beheaded, one died, two divorced, one survived". But the saying is somewhat misleading. Although known for disposing of his wives as he pleased, Henry never technically divorced any of them, annulling all the marriages that he wanted to end.
You can share this story on social media: