Outcry as Russian arts teacher jailed for 7 years over $13k 'bribe'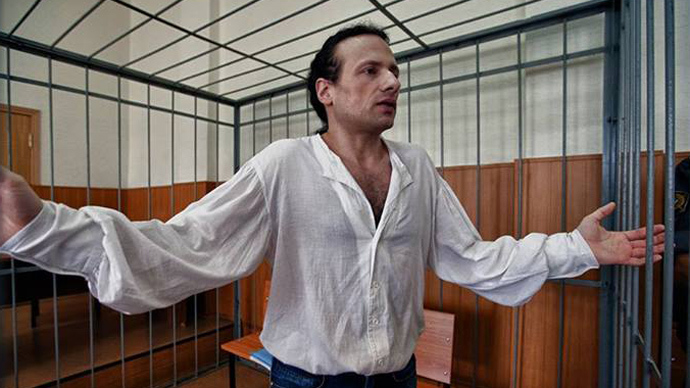 A Russian teacher has been sentenced to 7 years in a maximum security penal colony on corruption charges, sparking outrage across the internet community as less severe punishments are given for more serious corruption charges and even murders.
Village teacher, Ilya Farber, has been found guilty of two counts of bribe taking, amounting to $13,000 by a town court in Ostashkov in Tver region in Central Russia.
He received 7 years and 1 month in a maximum security prison, plus a fine of about $91,000.

Farber has compared himself to Aleksey Navalny, a popular blogger and Moscow Mayoral candidate who himself received a 5 year prison sentence on embezzment charges just two weeks ago. He also likened himself to those who participated in the anti-Kremlin Bolotnaya Square rallies in December 2011.

"Our country prosecutes those who want to change something. Navalny wanted to change the country through adults; I on the other hand through children, my students, who are eagerly waiting for my release. The people at Bolotnaya Square [want to change the country] by addressing the authorities. We will be prosecuted and confined for a long period through the fault of the totalitarian regime which does not need strong men," Lenta.ru quotes Farber as saying.

The criminal case file asserts that in July-August 2011 Ilya Farber accepted roughly $10,000 from a director of a commercial firm, which was doing unsatisfactory repair works in a local recreation center where Farber was employed as director. Subsequently, Farber is said to have obtained just over $40,000 for signing off an acceptance report, when in fact the works were completed with a delay and on a smaller scale than stipulated in the contract.
The prosecutor insisted works were not performed in full, resulting in a loss of nearly $30,000 to the center.
Farber's lawyers said the defendant himself had lent the money to the construction company, and so the payment was effectively returning the debt. 
Илья Фарбер в клетке ждёт решения суда pic.twitter.com/RvB9PVdhqk

— Грани.ру (@GraniTweet) August 1, 2013
Farber's lawyer Yelena Romanova has refuted the accusations. According to her, the cost of the repair was overestimated by up to three times. The defense also stated that the first trial, which ended in August 2012, had numerous violations: the defendant was denied entrance into the courtroom, and the number of jurors was reduced from twelve to eight. Romanova also said that the behavior of the judge Vladimir Andreev was appalling, as he advised the jury "not to pay attention to the words of the defendant" and entered the room while the verdict was being written.

According to Russian media sources, Ilya Farber is a painter who decided to stop living in a metropolitan city and moved from his Moscow apartment to a house in Moshenka, a village in the Tver region in 2010.
He started to work as a teacher in a local school and later decided to renovate the local recreational center. Reportedly, he came into conflict with neighbors in the village.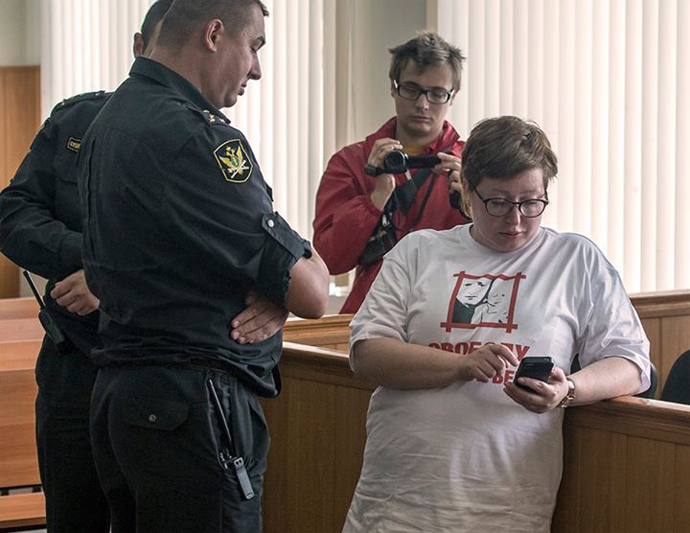 Russian bloggers speak out in Farber's defense

Russian bloggers have moved to defend Farber, pointing out that the verdict is unprecedentedly severe.

The bloggers have recalled multiple cases of high-ranking officials accused of embezzlement and other criminal charges. They received much smaller prison terms for pocketing amounts exceeding those mentioned in Farber's case by hundreds of times.
Some bloggers mentioned examples of criminal cases where bureaucrats stole millions of dollars and only received suspended sentences.
They believe that Farber's verdict is a "spit in the face" to Russian society. Bloggers claim that the Ostashkov court's decision has discredited the authorities and "disgraced" the political system.
"Farber's case is a real nightmare. Seven years in a maximum security prison. Killers get shorter prison terms," wrote popular blogger and Moscow Mayor candidate, Aleksey Navalny, who himself received a 5 year prison sentence on corruption charges just two weeks ago.

Article 109 of Infliction of Death by Negligence in Russia's criminal code stipulates up to 4 years in prison for multiple charges of involuntary manslaughter, while Farber got a 7 year stretch for an offence allegedly involving just $30,000.
Last December Russia's Chief Rabbi, Berl Lazar, commented on the decision of the Supreme Court to revise Farber's case, saying that prison "is not the best solution" for those accused of economic crimes, because it is better to make such people compensate for the damage and "do something for the country".
"If an individual poses no threat to [the] society – it's better to make him pay compensation instead of locking him in prison," Berl Lazar said in 2012.
In 2012 the court in Ostashkov found Farber guilty and sentenced him to 8 years in prison and a 3,200,000 rubles fine, but in November 2012 Russia's Supreme Court overturned the verdict and ordered a retrial.

You can share this story on social media: