Tajik government wages war on SMS-divorces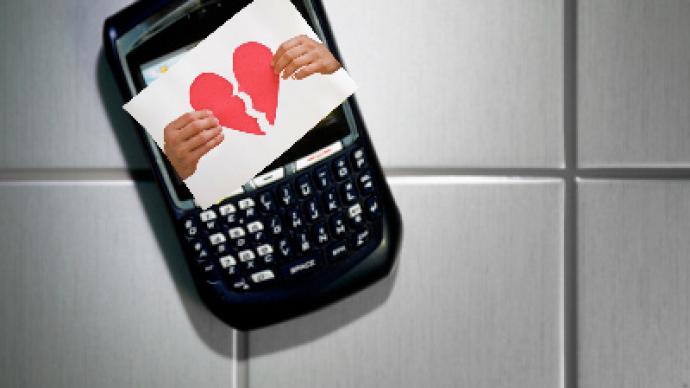 SMS-divorces have recently become popular in Tajikistan. The government of the Central Asian state has appealed to the supreme religious body to get rid of such a practice in the hope it will halt the increasing divorce rate in the country.
The Muslim nation's tradition says that if a husband wants to leave his wife, he just needs to say, three times, the word "Talok", which would mean an automatic divorce. In the age of mobile phones the procedure has been streamlined – now a man does not necessarily need to say it in person, a simple text message would be enough. Tajik men were fast to make use of such a freedom. The International Organization for Migration reports that in 2010 alone, 800,000 Tajik men left their homes and families, and migrated to Russia to earn money. The majority of them – around 80 per cent were married. Another official number claims that 30 per cent of those married never return to their homes, preferring to settle down in Russia.In order to avoid persecution by migration services, these men marry Russian women, and abandon their families once and for all.Meanwhile, Rector of the Tajik Islam Institute, Umarali Nazarov, explains that Muslim tradition regards text-message divorce as one of the most humiliating ways to leave someone. "Families shouldn't split, but if there is a necessity for divorce, men should pay a certain respect to their wives and notify of their decision in person," he told the Asia Plus news agency."The majority of the abandoned women don't have an education and don't know how to live and how to support their children," local human rights activist Risolat Khakimova told the Fergana news agency. She added that there is no official information on how many women are abandoned in such a way, because most of them prefer not to tell anyone about it – divorce itself is seen as shameful for a Muslim woman.The issue could be solved if the Russian and Tajik civil registry offices regularly exchanged information. But here comes yet another problem – most of the marriages in Tajikistan are unofficial and are not registered anywhere. Islamic tradition does not require it, and most of the couples limit themselves to simple religious ceremonies.All these uncertainties lead to the increased number of divorces and make the status of Tajik women more fragile."Family is sacred and can't be destroyed by a mobile phone," says Abdurakhim Kholikov, head of the religion committee at the Tajik government. He has appealed to the Council of Ulems, the supreme religious body in the country. "I hope the council will judge the situation correctly," Kholikov told the Asia Plus news agency.
You can share this story on social media: