Free to go…not! Syrian rebels backpedal over UN hostages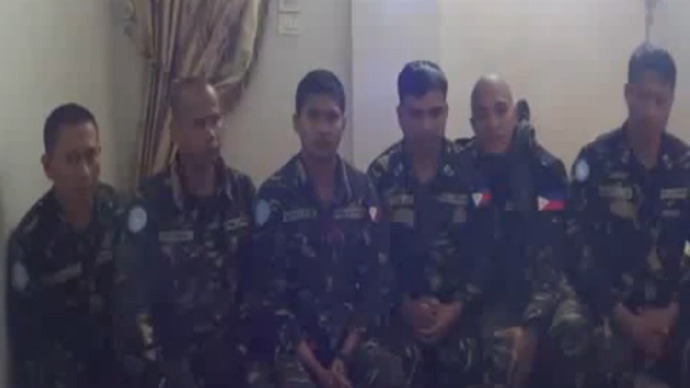 The Syrian rebels who captured a group of Filipino UN peacekeepers failed to release them despite earlier promises to hand over the hostages to the Red Cross, the Philippines government said.
The Syrian militant group that had captured 21 blue helmet troops in Golan Heights is sticking to its initial demands, said the spokesman for the Philippines Department of Foreign Affairs, Raul Hernandez. After seizing the peacekeepers on Wednesday, the Syrian rebels demanded that Syrian government forces withdraw from the village of Jamlah in exchange for the release of the captives.
The abrupt change of plans appears a sign of discord among the Syrian rebel group, which is detaining the Filipinos. Earlier on Friday they seemed to have played down their demands, calling the hostages "guests" and stressing that they would not harm them.
It comes after the Syrian Observatory for Human Rights released a video showing some of the 21 peacekeepers, with one man – who identified himself as a captain in the UN Philippines battalion – saying that he and his men are in "a safe place."
The peacekeepers were taken by Syrian rebels in Golan Heights, a territory that Israel captured from Syria in 1967. The land grab was not recognized as legitimate by either Syria or the international community.

The UN has maintained a peacekeeping force in the area to maintain the ceasefire between Israel and Syria since 1974. As of late January, there were more than 1,000 troops and about 100 civilian personnel deployed there.
A flurry of condemnation followed the ill-fated capture, as the countries and organizations usually seen as supporters of the Syrian armed opposition demanded their freedom. The US called it "absolutely unacceptable," while the EU called such moves "serious breaches of international law."
The UN and the Philippines government had condemned the capture of the peacekeepers and urged the insurgents to immediately release them. Russia's UN envoy Vitaly Churkin said the seizure of the UN observers showed "gross disrespect for the United Nations."
It's not clear whether the militant group had changed their intentions about the hostages due to the international pressure or because they thought that holding UN personnel does not give them enough leverage on the Syrian government to force their troops out of Jamlah.
The incident will not make the UN withdraw its peacekeeping force from the Golan Heights, UN spokesman Martin Nesirky said.
You can share this story on social media: