Nothing safe, nothing sacred: Syrian rebels desecrate Christian churches?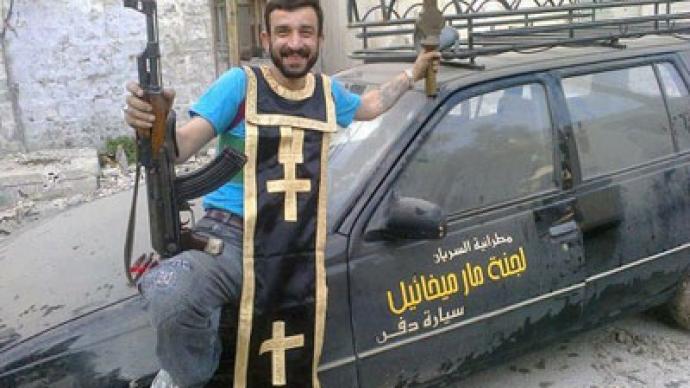 Shocking images have surfaced, revealing the alleged desecration of Christian churches in Syria by Western-backed rebels. The pictures, taken by local Christians outraged at the violence, were published by PrisonPlanet.com.
In one of the photos a man who is said to be a member of the Free Syrian Army poses in a stolen priest's robe while brandishing a looted cross in one hand and a machine gun in the other.The photos were taken by a Christian woman in Homs, one of the cities most devastated by continued violent clashes between rebels and government forces."Everyone knows simply removing these garments from the church is a sin. The priest is the only one who wears them. They even pray before putting them on," the woman told PrisonPlanet.com. She added that after the rebels tore the church apart, they went inside to document their violence. Images show church pews broken apart, with pieces strewn all over the nave. The floor is covered with rubble, and even the altar looks like it has been desecrated.
Christian minorities are facing a growing threat and thousands are being forced to flee their homes as they face harassment and discrimination from opposition radical Islamist factions. At least 9,000 Christians from the western Syrian city of Qusayr were forced to seek refuge after an ultimatum from a local military chief from the armed opposition, the Vatican's Fides news agency said.Earlier, a Christian man was shot dead by a sniper in Qusayr, which neighbors the city of Homs.Some reports have even suggested that a number of mosques in the city have announced that "Christians must leave Qusayr within six days." Two Catholic priests who fled the city confirmed to the news agency that they heard the ultimatum repeated from the minarets "with their own ears."Attempts to evacuate Christians from the city of Homs over the past two weeks have also been unsuccessful, and a priest in the city said the rebels appeared to want to keep the civilians inside to use them as bargaining chips. Thousands of Christians have fled certain areas of Homs that fell into rebel hands in February.Meanwhile, US intelligence operatives and diplomats continue to step up their contacts with Syrian rebels to help organize their growing military operations against President Bashar al-Assad's forces. According to senior US officials, the CIA and the State Department are helping the Free Syrian Army develop logistical routes for moving supplies into Syria and providing training in communications.Reportedly, Saudi Arabia and Qatar have been paying salaries to the Syrian rebels for several months now. Meanwhile, Turkey, which hosts some units of the Free Syrian Army, ensures material and technical support, according to sources. And many believe that as long as the US and its allies continue to blindly support the radical rebels, stability in Syria will remain unattainable.
You can share this story on social media: