Revealed: CIA secretly operates on Syrian border, supplies arms to rebels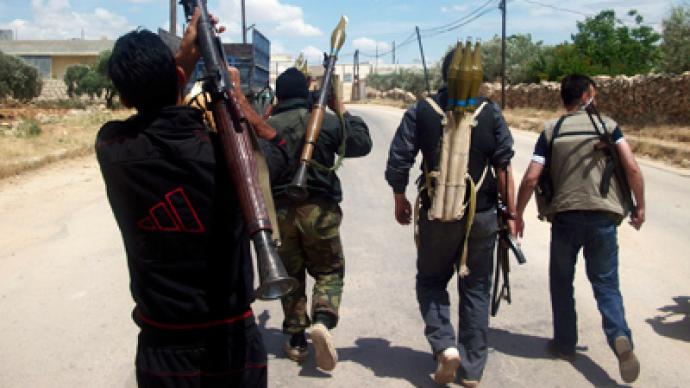 American secret service operatives are distributing illegal assault rifles, anti-tank rocket launchers and other ammunition to Syrian opposition, the New York Times reports. But due to some rebels' links to Al Qaeda, the CIA's task is precarious.
The paper reports that for weeks now, officers based in southeast Turkey have supervised the flow of illegal arms to numerous opposition factions ready to fight the regime of President Bashar Assad. The only problem is some of the rebel groups have links with terrorist organizations such as Al Qaeda, so the CIA mission must be careful not to arm proven terrorists by mistake.Arms and ammunition are being brought into Syria mainly over the Turkish border with the help of Syria's Muslim Brotherhood network and other groups, the report says. Expenses are being shared by Turkey, Saudi Arabia and Qatar.The NYT source, an unnamed Arab intelligence official, revealed that American officers are also collecting information on Syrian opposition groups and recruiting informants among their ranks. The source said the Obama administration is considering sharing its intelligence data, such as satellite images and detailed information on the location and maneuvers of Syrian troops.According to the source, CIA operatives might be helping the rebels with organizing a rudimentary intelligence organization. The CIA agents have reportedly not set foot on Syrian soil, however.While, it seems, supplying Syrian opposition with arms, the US would like to see Syria's allies, Russia in the first place, stop supplying weapons to the regime of President Bashar Assad. Washington has expressed concern with Russia performing maintenance of Syrian Mi-25 assault helicopters.Moscow has consistently denied supplying to Damascus any types of assault weapons that can be used against armed rebels. Russia's Foreign Ministry says the country has only supplied Syria with defensive capabilities such as anti-air missile systems.Russia is not violating any international sanctions against Syria, and Moscow has declared it will not cease military cooperation with Damascus.Prior to the report about CIA officers operating on the Turkish-Syrian border, the Obama administration's declared policy on the conflict in Syria centered on diplomacy and humanitarian aid. The State Department has reportedly allocated $15 million in medical supplies and communication equipment for armed opposition groups in Syria.In the meantime it seems the Pentagon is considering various options for interference in the Syrian conflict, including establishing no-fly zones over the country, as was done in Libya a year ago.American and Israeli generals are also concerned with securing alleged stockpiles of Syrian chemical weapons, the very existence of which has never been proven.
You can share this story on social media: