Syrian Islamist opposition casts out Christians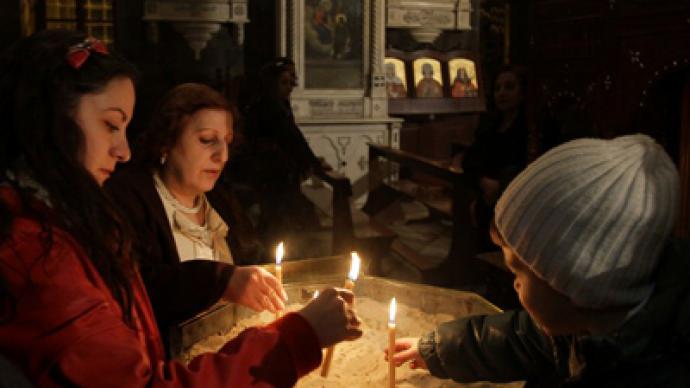 The Christian minority in Syria is facing a growing threat and thousands are being forced to flee their homes as they face harassment and discrimination from radial Islamist factions of the opposition.
At least 9,000 Christians from the western Syrian city of Qusayr were forced to seek refuge after an ultimatum from a local military chief of the armed opposition, Abdel Salam Harba, Fides news agency reports.In the latest outburst of violence a Christian man was shot dead by a sniper in Qusayr, which neighbors the restive city of Homs.There have been reports last week that some mosques in the city have announced from the minarets: "Christians must leave Qusayr within six days, which expires this Friday."Two Catholic priests who fled Qusayr confirmed to the news agency that they heard the ultimatum "with their own ears" repeated from the minarets."The situation is unsustainable in the area and exposed to total lawlessness," Fides sources on the ground say. They also fear that the fate of Christians in Qusayr could soon affect the 10,000 believers who live in other villages in the area.The areas controlled by the opposition are witnessing the rise of radical forms of Sunni Islam with the extremists not willing to live in peace with the Christians. Many of these gangs and armed groups operate independently of the Free Syrian Army, which rejects such kinds of discrimination against minorities.Apart from religious rifts, the violence against the Christian community may also be fueled by the fact that they have openly expressed support to the regime. Bashar Assad, as well as his late father, Hafez Assad, guaranteed secular rule in Syria, protecting Christians from discrimination and guaranteeing their rights.On Wednesday, an armed group broke into and desecrated the Greek-catholic church of St. Elias in Qusayr. "It is the first time in the ongoing conflict that such an episode has occurred in which sacred symbols are deliberately hit," a local source told Fides. Christians make up about 10 per cent of the country's population with most belonging to the denomination of the Greek Orthodox Church of Antioch.
You can share this story on social media: