US accelerates preparations for 'no-fly zone' in Syria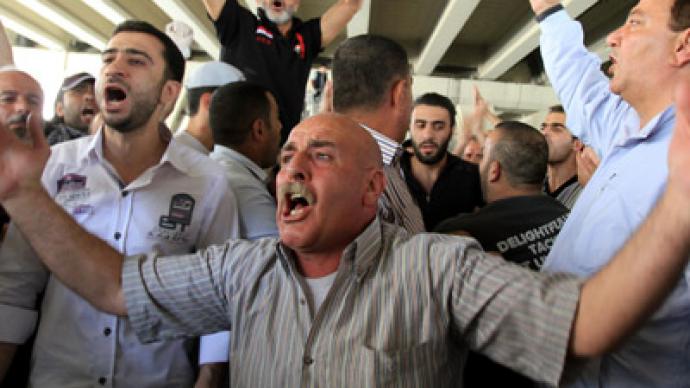 The United States may soon take on a formal role in the Syrian uprising after reports surfaced this week that suggest the White House wants an air offensive targeting the regime of President Bashar al-Assad.
After over a year of unrest in Syria, Israel's Debka news agency reports that US President Barack Obama has asked the US Navy and Air Force to accelerate plans that would aid in the ousting of Assad. According to their sources, President Obama hopes that by initiating a temporary air strike in locales instrumental to the Syrian government, the US may be able to decimate Assad's control by attacking his regime's military command centers.The US would call for a no-fly zone over Syria, reports Debka, then send their own personnel to strike Assad-aligned targets.Murmurings of the latest plans out of Washington come less than two weeks after Sen. Lindsey Graham (R-South Carolina) called for the implementation of a no-fly zone. Speaking to reporters last month, Sen. Graham said that ousting Assad from control in Syria is much more crucial for America's interests than the issue of Libya; last year the US aided in the removal of Colonel Muammar Gaddafi from Libyan rule."Compared to Libya, the strategic upside of taking out (Syrian President Bashar) Assad is far greater," said Graham, who currently sits on the US Senate Committee of Armed Services. "We've used force to stop slaughter less strategic and egregious than this."Debka's reports also come days after White House Press Secretary Jay Carney confirmed that, in terms of US involvement in Syria,"military action is always an option," although he added, "We do not believe that … further militarization of the situation in Syria at this point is the right course of action." Less than two weeks later, however, the White House may have already changed their stance.According to Debka, Washington's rumored change of heart may have something to do with reports out of Russia. Sources speaking with the news agency say that US President Obama asked for an accelerated attack on Syria's leaders after hearing Russian officials allegedly say, "Moscow would support the departure of President Bashar al-Assad if Syrians agreed to it."Debka adds that, to carry out the plan, the US will equip Syrian rebels with military supplies so that they could out attack Assad's regime on the ground after an American-led airstrikes. It is believed that Assad's government is currently using unmanned surveillance air drones to patrol the countryside for rebel forces only to then order strikes targeted them.
You can share this story on social media: