Syrian deputy PM learns of dismissal during RT live interview
Published time: 30 Oct, 2013 13:30
Edited time: 30 Oct, 2013 19:17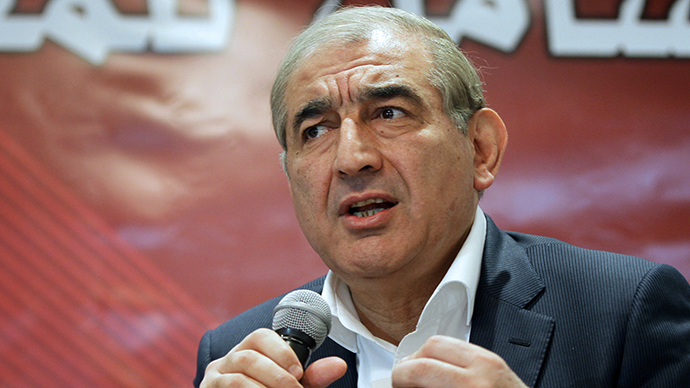 Syrian deputy PM Qadri Jamil learnt that he was sacked from his office while he was giving a live interview to RT Arabic. The dismissal is allegedly for Jamil having acted without government permission.
The top official was being interviewed about Syria's readiness for the Geneva II peace talks when news of his sacking started to appear. A host on RT Arabic promptly reacted by asking the guest if that was true.

"Honestly speaking I had not heard anything about it before I entered this studio," was Qadri Jamil's reaction. "Until I see an official confirmation, I'm not going to consider this information true".

The news of the dismissal was reported by Syria's state media, which also explained that the official lost his job for acting without government permission.

"Jamil was dismissed because he left his center of work without prior permission and did not follow up on his duties," read a statement posted on Syria TV. "Additionally, he undertook activities outside the nation without coordinating with the government." 
Qadri Jamil is a member of the peaceful Syrian opposition which refrains from taking part in the attempts to overthrow Bashar al-Assad by force. The unauthorized act that Jamil undertook was reportedly his meeting with the former American ambassador to Syria, Robert Ford, on Saturday in Geneva.

"He saw Ford after meeting Russian officials in Moscow," an anonymous Middle East official told Reuters. "The meeting was long but useless. Jamil put forward what Ford apparently regarded as unworkable proposals regarding the Geneva talks. He also unsuccessfully tried to win US backing to include him on the opposition side in the Geneva talks."

The Geneva-2 peace talks, which Russia and the US have been trying to broker, are supposed to get the Syrian government and the rebels together for negotiations.

The country's Foreign Minister, Walid al-Moualem, said on Tuesday that Syria would participate in the peace talks but that it won't have its political future and leadership determined by outside forces.

It's much more difficult to bring the opposition to the negotiating table because it is fragmented into numerous groups and has for a long time put forward Assad's stepping down as the only precondition for participating in the talks.

A total of 19 Syrian rebel groups fighting against President Bashar Assad's regime have already refused to take part in the Geneva-2 peace conference.

In an attempt to push forward the stalled negotiations UN envoy, Lakhdar Brahimi, arrived in Damascus on October, 28. The diplomat had a meeting with the Syrian President on Wednesday.