UN Security Council has no authority to support revolution in Syria – Lavrov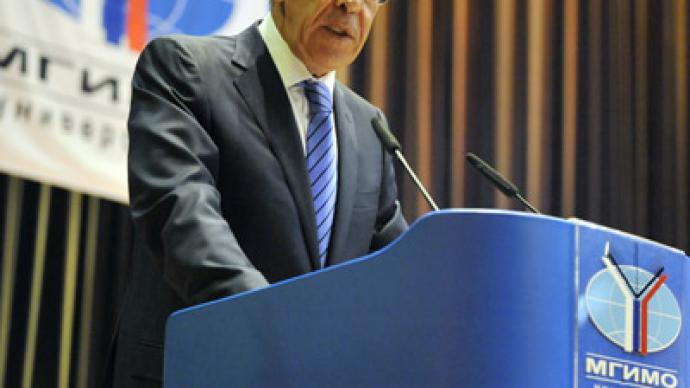 The UN Security Council has no right to support a revolution or foreign intervention in Syria, Russian Foreign Minister Sergey Lavrov warned. Any plan to withdraw government troops while fighting continues is untenable, and naïve at best, he added.
The demand for President Bashar al-Assad to resign as a precondition to resolving the Syrian crisis is a completely unrealistic approach, Lavrov said during a public appearance at the Moscow State University of Foreign Affairs."There are different attitudes towards the Syrian regime. But while fighting in the streets continues, it is absolutely unrealistic to say that the only way out is for one side to unilaterally capitulate. It is not a matter of ideology, we don't support any political figures in Syria. We just reason from what is realistic," Lavrov said to the students of the diplomatic university.Harking back to the summit in Geneva in June, Lavrov noted that despite differing opinions on the conflict, all the participating countries agreed to work for a "free, stable, independent and democratic" Syria. However, "our western partners and some nations in the region are almost openly pushing for outside intervention," said Lavrov."Outside intervention should be positive. Every international player should push for both sides of the Syrian conflict to cease violence," stressed Lavrov. "Saying that the government should be the first to pull out its troops from towns and then the opposition is not a viable plan."The Russian foreign minister added that those foreign players who insist on inciting the opposition forces "are not working in the interests of the Syrian people. They are motivated by their own geopolitical interests."
Lavrov cited the fact the Security Council dismissed a vote on the Geneva accord as evidence that a number of countries were not working for the Syrian people.
Ecuador, Assange's rights must be respected
WikiLeaks founder Julian Assange's rights as a political refugee must be respected, Lavrov said, adding that under international law, it would be illegal for UK police to storm the Ecuadorian embassy."As long as he is inside Ecuadorian territory, I think no one will try any rash actions, and the rights of the refugee [Assange] must be respected. No one can challenge the judicial process. But when the Ecuadorian embassy is threatened with being stormed, just like the Winter Palace was, I think it's a little outside the rule of law," Lavrov said in his talk to the students, alluding to the Bolshevik storming of the Winter Palace during Russia's 1917 revolution.WikiLeaks founder Julian Assange has been holed up inside the Ecuadorian embassy in London since June. The whistleblower is currently in the center of an international stalemate insofar as Ecuador has granted him asylum but the UK has pledged to arrest him if he sets foot outside the building. Assange estimates that he could potentially get out of the Ecuadorian embassy in a year's time if Sweden drops the extradition order against him. The 41-year-old Australian is wanted for questioning over charges of sexual assault and rape in Sweden.Assange has said that if Sweden drops the extradition order against him he could potentially leave the embassy in a year's time. The 41-year-old Australian is wanted for questioning over charges of sexual assault and rape in Sweden.Commenting on the WikLeaks whistleblowing scandal that precipitated Assange's asylum request, Lavrov said that the information in the WikiLeaks cables "brought to light how governments relate to their partners, and what they think of them." The document dump hadn't harmed or threatened the safety of any particular government, he said."It was curious," Lavrov said. "But nothing more. Many of our impressions were simply confirmed."
You can share this story on social media: