Syrian outcome will affect future conflicts' settlements – Lavrov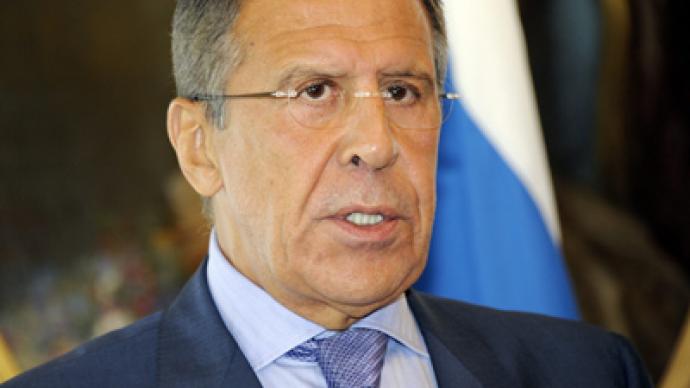 The outcome of the Syrian crisis will have a significant impact on how future conflicts are settled, the Russian foreign minister told reporters, once again calling for a diplomatic solution and dialogue within Syria.
"We believe this issue attracts so much attention not only because of the scale of the bloodshed, which worries all of us, but also because the outcome of the crisis will significantly influence the patterns for conflict settlement – either everything will fall in accordance with laws, that is according to the UN Charter, or 'bomb democracy' will prevail," Lavrov said, as quoted by RIA Novosti.The Russian foreign minister spoke at a press conference in Helsinki on Monday after meeting his Finnish counterpart. Creating security zones in Syria, like other unilateral actions, will not resolve the conflict there, Lavrov said in response to a journalist's question about such an approach to the crisis."I have made a lot of statements on the events taking place in Syria and around it. No unilateral ideas will work," he said as quoted by Interfax news agency. "Effective approaches can only be collective, and a fine example of collective actions is the document adopted at the Geneva conference on June 30, 2012," he added, referring to the resolution signed by the UN, EU and Arab League, as well as a few other regional players, stipulating that all sides in the Syrian conflict must cooperate with UN observers, allow humanitarian aid to be delivered, release detainees, grant journalists access and protect the right to peaceful demonstrations.Lavrov underlined that all parties to the Syrian conflict must be involved in a dialogue in order to reach a solution, and that any proposal would have to consider the interests of all the country's ethnic and religious groups. "Any other solution will block the possibility of creating a democratic state based on international standards in Syria and would become a threat to regional security," he said.The Russian foreign minister also expressed concern about Western powers' inability to reach an agreement on the crisis. He stressed the importance of the Geneva communiqué's calls for both the Syrian government and the opposition to end violence and start talks on the formation of a unity government."We have managed to get support for the Geneva communiqué from the Syrian government. But our partners haven't even tried to do something like that; moreover, the main opposition groups publicly rejected the document. Nobody even tried to work with them," Lavrov said.
You can share this story on social media: