15 killed in Damascus University shelling - Syrian state TV (VIDEO)
Fifteen people have been killed when mortar shells struck the campus of Damascus University, says Syrian state TV. The blast also injured at least 20 others, AP reports, quoting anonymous officials.
Official SANA news agency however says 10 students have been killed in the attack, 29 others have been injured, two of them are in critical condition.

"Terrorists fired mortar rounds on the Faculty of Architecture in Damascus," Syrian state TV said, blaming opposition forces for the attack.
The mortar shells appear to have struck the cafeteria as the government-run Al-Ikhbariya TV station showed footage of tables and chairs turned upside down, shattered glass and blood on the floor.

The Syrian Observatory for Human Rights also confirmed the attack took place: "Several mortar rounds hit the Baramkeh area and the architecture faculty compound, causing several casualties," the London-based monitoring group said, without elaborating.
The college is in Baramkeh, a central Damascus suburb where mortar attacks by rebels fighting to oust President Bashar al-Assad have intensified this week. The university is also surrounded by government buildings, including the Ministry of Defense, the headquarters for state media and the president's official residence.
Mortars are extensively used by the Syrian rebels, who have launched another attempt to seize control of Damascus, the Syrian Observatory for Human Rights said. Two days ago, the rebels shelled a residential district of Damascus, killing at least three people and wounding dozens more.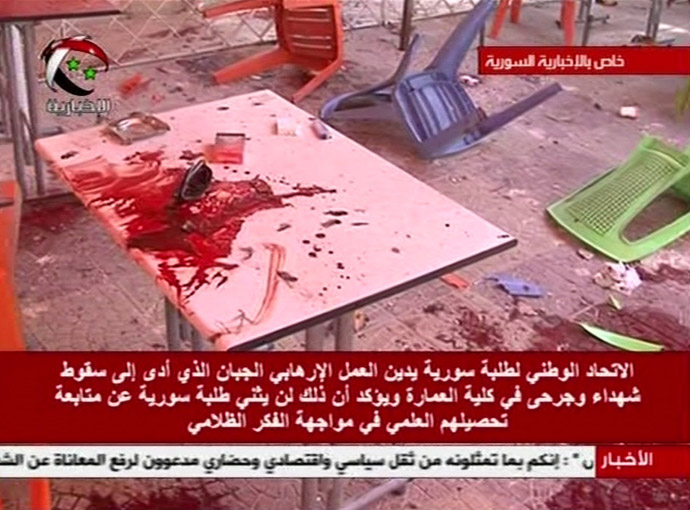 Thursday was marked by renewed battles in the suburbs of the Syrian capital; the Free Syrian Army claimed it had received fresh supplies of arms. The fiercest fight appears to be underway in the northeastern district of Qaboon, where the rebels have reportedly encountered government troops reinforced by tanks. The armored vehicles are reportedly pounding the targets from afar, without actually entering the residential district.

Tanks are also shelling the southwestern district of Qadam and the nearby town of Daraya, preventing militants from getting a foothold in these districts, according to the Observatory. The army is maintaining the relentless pressure in a bid to crush the insurgency.

The rebels are trying to seize strategic points within the Syrian capital by attempting to gain control over roads linking districts of the city, the Observatory said. The militants are trying to consolidate forces in several neighborhoods of Damascus, and Syrian troops are trying to push them out; these reports were not independently verified. The clashes are continuing for a second day in a row.

The civil conflict in Syria started two years ago and has claimed over 70,000 lives, the UN estimated. Some 3.6 million people are now internally displaced in the country, the UN High Commissioner for Refugees said on Tuesday. While the rebels say they want to bring political change to Syria by ousting President Bashar Assad, the country's leader maintains he is fighting an insurgency trained and sponsored from abroad.

You can share this story on social media: