US and UK citizens reject regime change or arms supply in Syria - survey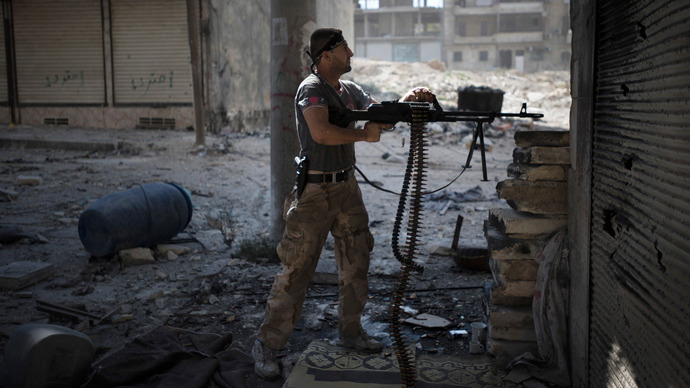 Both US and UK citizens are decisively against any military intervention in the Syrian conflict, and most do not want the government to provide military aid to the rebels, according to a poll conducted on both sides of the Atlantic.
Fifty-seven per cent of British people and 45 per cent of Americans are against supplying arms to the Syrian rebels, with just 16 per cent in favor in both countries, according to a YouGov poll conducted earlier this month. The apathy for military shipments is shared across the political spectrum in both countries, with 17 per cent of Republicans and 16 per cent of Democrats in favor in the US, and 14 per cent of Conservatives, 18 per cent of Labour voters and 25 per cent of Liberal Democrat supporters endorsing the UK government engaging in the same activity.
Britain and France have pushed to ease an existing EU embargo on arming either side in the conflict, but were rebuffed by other member states during a foreign ministers' meeting last week. The ban will now remain in power until summer, unless new negotiations take place.
Meanwhile, US President Obama does not openly endorse arming the rebels, but the CIA has increasingly facilitated shipments through allied third countries such as Turkey and the United Arab Emirates, according to an investigation published in the New York Times on Sunday.
More radical options are equally unpopular. Asked if they were in favor of sending in soldiers "to protect civilians from attack," only 23 per cent in the UK and 27 per cent in the United States said yes.
And only 9 percent in the UK and 16 in the US want their government to use armed force to actively depose President Bashar Assad.
Analysts of the survey have tied the results with the continuing dissatisfaction with the situation in Iraq, where Saddam Hussein was overthrown nearly ten years ago. While the open sectarian conflict in the country has subsided, suicide bombings and clashes remain a weekly occurrence, with over 50 people killed just last week in Baghdad explosions on the anniversary of the US invasion.
In the same survey, only 27 per cent of Britons and 41 per cent of Americans said they believed George W. Bush and his allies did the right thing when they sent their troops into the country.
Indeed, 71 per cent in the UK and 56 per cent in the US believe that Iraq is likely to remain a "permanently unstable country" in the foreseeable future.

You can share this story on social media: