Media ship-storm over Russian vessels 'bound for Syria'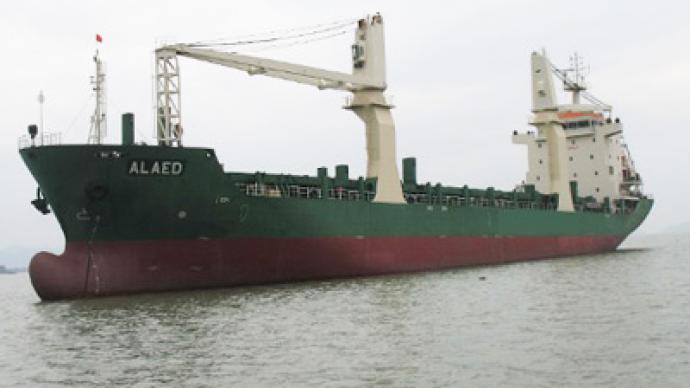 A Russian cargo ship stopped near Scotland has been forced to turn back to home shores as the UK-based insurer withdrew the vessel's cover. Western media are mired in speculation over alleged Russian supplies to Syria.
The MV Alaed, a multipurpose twin-deck cargo vessel was proceeding through the North Sea when it was stopped by the UK marine insurer the Standard Club some 50 miles (80.4km) off Scotland.  The ship was halted after the US told the insurer Washington suspected the vessel was heading to Syria, carrying MI25 helicopters known as "flying tanks" and other choppers.  "We are aware of a ship carrying a consignment of refurbished Russian-made attack helicopters heading to Syria," the Foreign and Commonwealth Office (FCO) said in the statement. The Standard Club Company withdrew the vessel's insurance, making it difficult for the ship to dock legally in ports.On Tuesday the MV Alaed had to head back to Russia, noted UK Foreign Secretary William Hague.The insurer also canceled all licenses belonging to Russia's FEMCO Group, under which the cargo vessel operated. Standard Club explained its decision saying that FEMCO Group had "broken internal rules" of the company – a mutual insurance association.  "We are working closely with international partners to ensure that we are doing all we can to stop the Syrian regime's ability to slaughter civilians being reinforced through assistance from other countries,'' the Foreign Office added. The vessel's operator FEMCO refused to comment Tuesday.Last week, US Secretary of State Hillary Clinton triggered a diplomatic row between Moscow and Washington when she lashed out at Russia over a shipment of attack helicopters, which she said the Syrian government could use in a crackdown on opposition.Moscow insists it is merely sending to Syria "old, refurbished helicopters" that had been repaired and were being returned to Damascus as specified under an earlier contractual agreement.Tensions have also been ratcheted by media reports suggesting that Russian vessels are delivering weapons to Syria.The Russian Defense Ministry issued a statement on Tuesday saying that no navy ships were making their way to Syria.According to the Defense Ministry, the one morsel of truth in the media reports was that the specific warships mentioned do in fact belong to the country's Black Sea Fleet.Concern over alleged Russian supplies to Syria have been growing as the West is accusing Moscow of violating the European Union arms embargo against Damascus, imposed last May.
You can share this story on social media: