Clinton misfires on Russian helicopters to Syria charge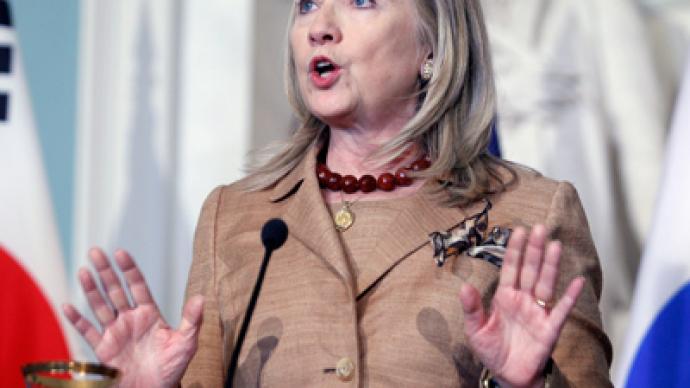 The US has acknowledged that Secretary of State Hillary Clinton was incorrect when she said that Russia was supplying the Syrian government with combat helicopters, thereby leading to a "dramatic escalation" in the conflict.
"These are helicopters that have been out of the fight for some six months or longer. They are freshly refurbished," Victoria Nuland, spokesperson for the US State Department, told reporters in Washington on Thursday.
Nuland, however, was at great pains to explain why Clinton had chosen to describe the alleged sale of Russian helicopters to Syria as a "dramatic escalation"in the conflict between Syrian pro-government and oppositional forces, when the transaction merely entailed "refurbished old helicopters."
The spokesperson was then asked to explain what Clinton meant when she said Russia should "suspend" its military trade with Syria.
"We're not suggesting any breakage," Nuland said. We are saying that "further shipments should be suspended, further relationships should be suspended, in the context of a regime that is using these weapons against its own people."
On Tuesday, Clinton triggered a diplomatic trembler between Moscow and Washington when she accused Russia of selling combat helicopters to Syria.
"We are concerned about the latest information we have that there are attack helicopters on the way from Russia to Syria," the Secretary of State said. Clinton added that if the Syrian government of Bashar al-Assad got possession of such lethal military weapons, it "will escalate the conflict quite dramatically."
Clinton's comments came shortly after the State Department accused the Syrian government of using helicopters to attack opposition strongholds.
Moscow responded heatedly to the accusations.
Speaking in Tehran on Wednesday, Foreign Minister Sergey Lavrov reiterated that Russia was merely fulfilling its contractual obligations, which were made with Syria long before the outbreak of violence hit the country.
"I already said during one of the news conferences in Moscow several days ago that we are now finishing the fulfillment of contracts that were signed and paid for a long time ago. All of (the contracts) are solely for the means of air defense," Lavrov told reporters.
Russia supplies Syria "only with things that Syria would need in the event of an armed attack on it from without," the minister added.
Lavrov stressed that Russia was supplying Syria exclusively with air defense systems, reiterating that nothing being delivered to Damascus could be used against demonstrators.
The minister then compared Russia's behavior with that of the United States, which he said is sending "special means" to countries in the region, specifically Bahrain, which is experiencing its own 'Arab Spring.'
"We are not supplying to Syria or anywhere else things that are used in fighting with peaceful demonstrators, in contrast to the United States, which is regularly sending such special means to countries in the region," he said. "For some reason, the Americans consider this to be in order. We are not delivering such means and are delivering only that which Syria requires in the event of an armed attack on it from outside."
Meanwhile, as Russian President Vladimir Putin prepares to meet with his American counterpart Barack Obama on the sidelines of the meeting of the G20 in Mexico next week, diplomats are working overtime to smooth over the rough spots in the US-Russian relationship.