Syria refugee toll skyrockets: 10,000-strong backlog at Turkish border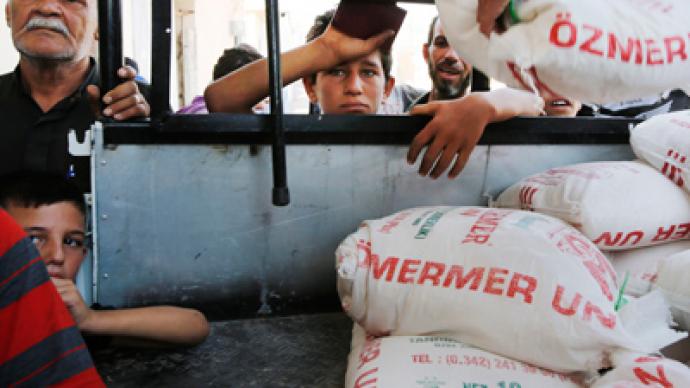 Some 100,000 Syrians fled their home country in August, says the UN, making-up 40 per cent of the total number of refugees since the conflict began. Thousands of Syrians have been waiting for days to enter Turkey, whose camps are already overcrowded.
The one hundred thousand Syrian refugees, who fled the violence in the Arab country in August, include those who have already been granted refugee status by the UN refugee commission (UNHCR) and those still awaiting the decision."If you do the math, it's quite an astonishing number and it points to a significant escalation in refugee movement and people seeking asylum, and probably points to a very precarious and violent situation inside the country," UNHCR spokesman Melissa Fleming said.Since fighting engulfed Syria in March 2011, some 235,000 people were forced to seek shelter in other countries. The number reported by the UNHCR for August makes over 40 per cent of this total.

Thousands of Syrians on Turkish border
More than 80,000 of those fleeing Syria have found asylum in Turkish camps. Last week it was reported that the influx of displaced Syrians prompted Turkey to close its borders to those without passports. However, Monday Turkey assured the UNHCR that the borders remain open.Nevertheless, Syrian refugee camps in Turkey are simply overloaded. Ankara has announced plans to erect four new camps to house 40,000 more refugees, but fears are that over 400,000 spaces may be needed. The border posts already face a backlog of some 8,000 Syrian refugees."All the children have diarrhoea and there is very little medicine. Only one doctor for over 5,000 people," Syrian refugee Hassan Leali told Reuters Thursday. Leali and his 13-member family fled violence in Aleppo to get stuck at the border. But there is no thought of going back.Last week, Turkey put forward a suggestion to create a 20km wide buffer zone in Syria for humanitarian reasons.  The offer received sharp criticism internationally and from Syrian authorities."A buffer zone is definitely something Turkey needs to establish to avoid major problems at its border," political analyst Paolo Raffone explained to RT. "This will be a way to establish a limited no-fly zone on the area necessary to protect refugees. At the same time we will be at the beginning of an intervention which would be masked under this humanitarian emergency."Despite the negative international reaction, Ankara is still expected to raise the plan at the UN Security Council.

'Slow death in refugee camp'
Jordan has given shelter to over 183,000 Syrians. With refugees arriving at the rate of 1,000 per day, the situation on the ground is nearing a humanitarian catastrophe, reports Paula Slier, RT's correspondent in the Middle East."What the refugees told me is that the sanitation is far from satisfactory. They often stand in queues for hours for food and water, there are not enough tents, people are sleeping in the streets. I talked to a number of women who were complaining of sexual harassment. One person told me that he and his family has fled here to escape death, but here, in a refugee camp, they will be dying a slow death," says Slier after visiting one of the camps in Jordan.Jordanian authorities are concerned about after refugees seeking to vent their anger have clashed with police. Meanwhile, in Syria itself some 1.5 million Syrians can be regarded "internally displaced"; that is according to the Syrian Arab Red Crescent. This brings the total requiring some form of relief to 2.5 million, or 12 per cent of the total population.  UN officials expect this number to increase to 4 million.On Tuesday, Syria's President Assad met the new head of the International Committee of the Red Cross (ICRC), veteran Swiss diplomat Peter Maurer. State television said Assad told Maurer that he supports the work of the ICRC in Syria so long as it remains "impartial and independent".A fifth meeting of the Syrian Humanitarian Forum, sponsored by the UN and including hundreds of nations, regional groups, UN agencies and non-governmental organizations, is planned for Friday in Geneva.
You can share this story on social media: