France and UK 'not ruling out' Syrian no-fly zone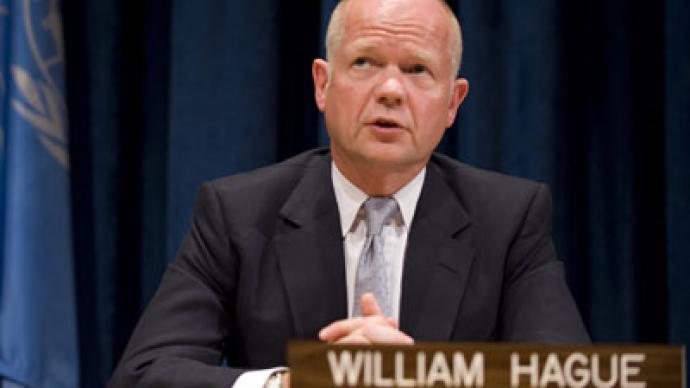 Britain and France are "not ruling out" the possibility of enforcing a no-fly zone over Syria. However, UK Foreign Secretary William Hague says such a move would require military intervention, and is unlikely to get past the UN Security Council.
"We are not ruling out any options for the future," Hague said, speaking at a press conference with French Foreign Minister Laurent Fabius.The head of the Syrian National Council – the country's largest opposition group – is also on board for the Turkish-proposed no-fly zone.Abdelbaset Sieda said such a move by the international community would show President Bashar al-Assad's regime that his opponents around the world are serious, according to AP.Hague's statement came ahead of a UN meeting between foreign ministers on the Syrian crisis.Top American, Russian and Chinese diplomats were absent from the talks, highlighting the fact that the body is deadlocked over how to end the 17-month-long conflict.Currently, the 15-member Security Council is prevented from taking action in Syria after Russia and China blocked three Western-backed resolutions that criticized Assad, but not the rebel opposition. Hague and Fabius had plenty to say at Thursday's conference, encouraging other countries to jump on board with support for the Syrian opposition."Those who continue to support Assad and his regime should think carefully about their position. Now is the time to step away from this regime and deny it moral and financial support. We call on Assad supporters to distance themselves from the regime or face the increasing possibility of being held to account for the regime's actions in the future," Hague said.Hague's views reiterated by Fabius, who made his anti-Assad views clear. "This meeting is to attest to the crimes in Syria, to hold each one accountable, to reiterate solidarity with the Syrian people, and increase our assistance," he said.Along with such statements came pledges of financial support for the 200,000 refugees who have fled from Syria to neighboring Jordan, Turkey, Lebanon and Iraq.But as Western governments continue to support the rebels, they do so by trying to influence others – mainly China and Russia – to hold the same position.Russia and China agree that the violence and killing of innocent civilians must end – but disagree with Western powers on how to reach a solution. The Kremlin is against the call for President Assad's resignation, and insists that the crisis cannot be attributed to the Syrian authorities alone. China has expressed similar views, despite their unpopular status among Western powers.