Iraq opens 'all' borders to Syrian refugees – senior border commander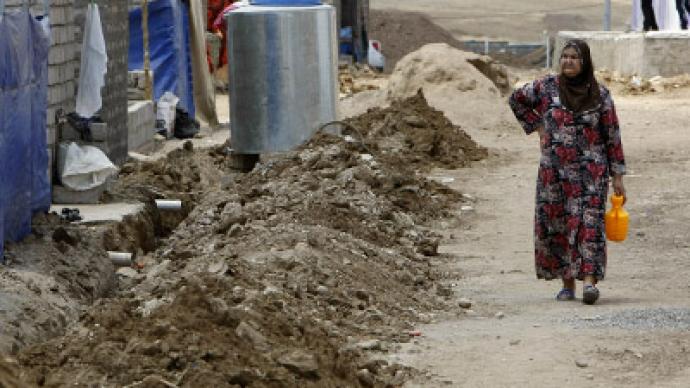 Iraqi Prime Minister Nouri al-Maliki has formally authorized Syrian refugees to enter Iraq. No details were given following the announcement that was broadcast on Iraqi state TV.
"The prime minister directed Iraqi forces and police and the Iraqi Red Crescent to receive Syrian refugees and help them and provide them with services," the country's state Iraqiya television said. An Iraqi general at the Al-Waleed border crossing with Syria confirmed the statement."The order came 30 minutes ago," General Issam Yassim was quoted by Reuters as saying. He said it applied to all border posts with Syria.The announcement was a reversal of a previous decision by the Iraqi government to seal off the border with Syria and only allow Iraqi citizens fleeing the unrest in Syria back in.Thousands of Syrians have been fleeing their country since the beginning of the anti-government uprising 16 months ago. Syrian emigration has intensified recently as rebels launched assaults on the government strongholds of Damascus and Aleppo. A number of rebels, some of them claiming allegiance to al-Qaeda, said they seized control of checkpoints on the country's border with Iraq and Turkey.Iraq sent two army brigades and a helicopter unit to the border following reports of checkpoints being captured by rebels, the country's local officials said. Over 2,000 Iraqis have returned to their homeland by plane in recent days, the country's Transport Ministry says. Authorities also estimate that "thousands" more made their way back on foot, entering Iraq through the Al-Waleed border post.The massive influx of Syrian refugees into Iraq is a reversal of the trend that was prevalent over the course of the previous decade, when scores of Iraqis fled their war-torn homeland into the much more tranquil Syria.This time, however, both countries are being rocked by violence. As the conflict openly rages on in Syria, over 100 people were killed in a series of blasts that ripped through a number of cities throughout Iraq.Some of the bombings targeted Shia Muslim sites, suggesting that they had been orchestrated by radical Sunni militants.
You can share this story on social media: