Islamic alliance suspends Syria's membership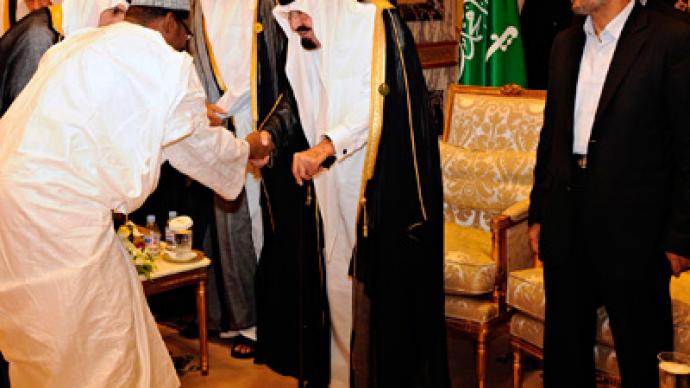 Leaders of the Muslim world have suspended Syria from the Organization of Islamic Cooperation (OIC) at a summit in Mecca, despite objections from Iran. The move further isolates the Syrian leadership from its traditional peers.
"The conference decides to suspend the Syrian Arab Republic's membership in the OIC and all its subsidiary organs, specialized and affiliated institutions," the summit's closing statement said.The OIC expelled Syria over "the obstinacy of the Syrian authorities in following the military option" to resolve the conflict and the failure of an UN-Arab League peace plan brokered by Kofi Annan.The group also demanded that the Assad regime "immediately end all acts of violence," while defending Syria's "unity, sovereignty, independence and territorial integrity."The Assad regime was dealt its first blow from the Muslim world when it was suspended from the Arab League last year, over what the League labeled a brutal crackdown on Arab Spring protesters. Some OIC countries were also demanding that Assad to leave power and prepare for a "post-Assad transition period," Mohammed Ahmed Taieb, a top Saudi Foreign Ministry official, earlier told AFP.Damascus did not attend the emergency summit in Saudi Arabia, but was represented by longtime regional ally Iran. On Monday, Iranian Foreign Minister Ali Akbar Salehi had criticized the Saudi proposal to suspend Syria's OIC membership, saying it would not resolve the conflict."We have to look for other ways, means and mechanisms for resolving conflicts and crises," Salehi said, adding that a "Syrian-Syrian solution" could only be accomplished through negotiations between the government and rebel forces.Saudi Arabia has openly called for arming the Syrian rebels.In an apparent show of goodwill, a Saudi broadcast showed King Abdullah welcoming leaders to the summit with Iranian President Mahmoud Ahmadinejad at his side. Sectarian tensions have been on the rise between Shiite-dominated Iran and Sunni-dominated Saudi Arabia in recent months over the ongoing Syrian conflict.  Tehran has accused Qatar, Saudi Arabia and Turkey of arming the Sunni rebels against Assad's Shiite regime. Saudi Arabia and Iran have continuously jockeyed for supremacy in the Islamic world. Iran, which following 1979's Islamic Revolution has largely stood in opposition to the West, has traditionally regarded Saudi Arabia as a proxy for US interests in the neighborhood.The US is attending the summit as an observer. Its attendance demonstrates Washington's commitment to "bring additional pressure to bear on the Assad regime," the US State Department said.The ongoing violence in Syria has killed more than 21,000 people, opposition groups claim. The United Nations estimates that some 1.5 million people have been internally displaced by the violence.
You can share this story on social media: