Internet blackout severs Syria from Web – reports
Published time: 8 May, 2013 07:57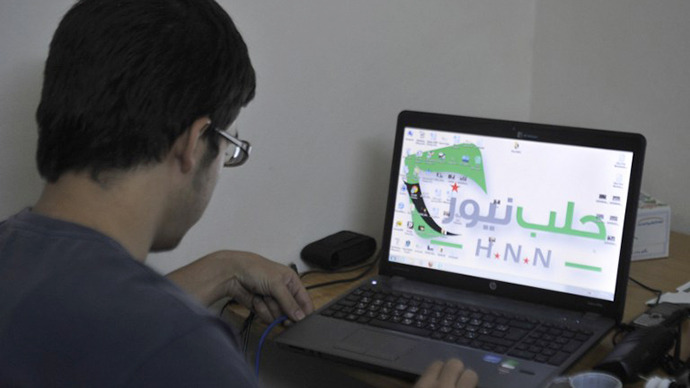 Syria has seen a massive slump in Internet traffic, with the country effectively cut off from the Web, an Internet monitor reported. It is the latest in a series of cyber-blackouts to strike Syria since the conflict began two years ago.
Google announced that its services in the country were offline at 9:45pm local time (1845pm GMT) on Monday. The Internet giant's transparency report published on its website showed a huge fall in activity.

The blackout rendered most Syrian websites inaccessible according to reports, although some websites that are based abroad can still be accessed.

             Dan Hubbard, Chief of Technology at Umbrella Security Labs, wrote in a blog post that
"Syria seems to have largely disappeared from the Internet," citing statistics on outbound Web traffic from Syria.
"Effectively, the shutdown disconnects Syria from Internet communication with the rest of the world," he wrote, adding it was still unclear what had caused the blackout. Hubbard also referenced a similar internet blackout in Syria last November.
The Syrian government has denied it was involved in last year's countrywide Internet outage, and accused the opposition of responsibility. Following the blackout, hacktivist group Anonymous slammed Syrian President Bashar Assad's government for cutting the country off from the Internet, and pledged to bring down state websites.
"Government of Syria cuts country's Internet access – anonymous goes on warpath," the group wrote on Twitter.
Opposition factions often use social media to upload videos and images of massacres they claim were perpetrated by government forces.
The violence in Syria has shown no signs of relenting in recent weeks. The international community has stepped up negotiations to push for a solution to the conflict in response to the rising conflict.
Russian Foreign Minister Sergey Lavrov and US Secretary of State John Kerry met in Moscow on Tuesday to discuss the conflict. They emphasized their continuing commitment to ending the violence that has plagued the country for over two years.
Both referenced the importance of last year's Geneva Communiqué, which drew up a plan for a peaceful political transition in Syria. Lavrov stressed that the opposition had not yet made any indication it was committed to the Geneva Communiqué, nor had they named representatives to negotiate on behalf of the opposition.
An international conference will be held at the end of May as a follow-up to last year's Geneva Accord.