Death toll rises to 15 with over 50 wounded in central Damascus car bombing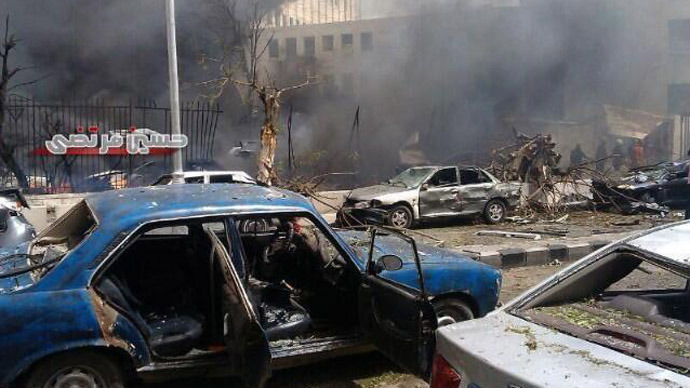 At least 15 people have been killed and over 50 wounded in car-bomb explosion in central Damascus, according to medical sources quoted by AFP.
The blast took place near a school in an area considered the capital's main business district that features the Central Bank and the Ministry of Finance.
The bomb appeared to have gone off inside the gates of the Central Bank's parking lot, destroying an outer structure and shattering windows of two large office buildings.
The blast sent a huge cloud of black smoke billowing over the capital's skyline.
"People were just sitting here working and doing their daily life, and suddenly this happened," the New York Times quotes a man whose curtain shop had its windows blown out.
No group has yet claimed responsibility for the attack.
Residents and opposition activists reported hearing many ambulance sirens and gunfire in the area. State television said shots were fired in the air to open the street to ambulances.
Firemen were dousing flames from cars crushed by the blast while local residents reported hearing gunfire. According to state television, shots had been fired in the air to clear a path for ambulances.
State-run Syrian TV described the blast as a terrorist suicide bombing, the latest in a series of car and suicide bombings to hit the Syrian capital.

"It's clear that this was the opposition, who did this. This could be a reaction to the military operation that's going on in Damascus. Yesterday the government announced they control a huge part of the city," a local journalist, who requested anonymity, told RT, adding that the opposition has recently revealed in the media that they are now "doing the biggest military campaign" against the government forces.
The last such explosion in central Damascus occurred in late February, when a suicide car bomb went off near the ruling Baath Party headquarters, reportedly killing 53 people and injuring over 200.
TV images on April 8 exposed thick layers of black smoke and several cars on fire, while at least six bodies were seen lying in the street. Paramedics carried a young woman on a stretcher into an ambulance while teenage students holding their backpacks could be seen walking away.
The scene of the deadly explosion has been covered in large plumes of smoke. A short video uploaded on the internet sheds light on the extent of the damage done to the area.

In recent weeks Syrian insurgents based in the outskirts of the capital managed to push forward into the government-held part of the city, with the number of car bomb attacks on the rise.
The situation in Syria remains tense. At least 70,000 people have lost their lives since the uprising against President Bashar Assad began just over two years ago, according to the UN, putting the number of displaced Syrians at over 850,000.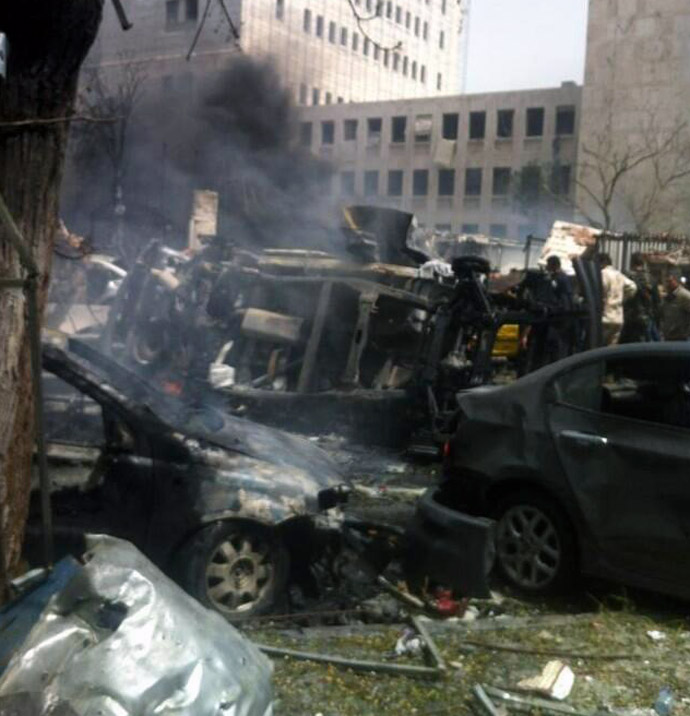 You can share this story on social media: