Syrian govt and rebels vie for strategic Golan region as Austria withdraws peacekeepers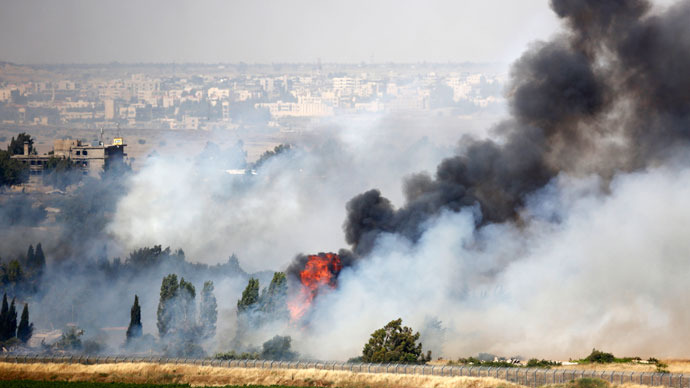 Austria has pulled out of its peacekeeping mission as both Syrian rebels and regime forces claim to have seized control of a UN-manned demilitarized crossing on the Golan Heights, a disputed region between Syria and Israel.
Austrian Defense Ministry spokesperson Col. Bauer said that the rebel Free Syrian Army had taken the crossing near the Syrian city of Quneitra, which is operated by a 1,000-soldier United Nations Disengagement Observer Force (UNDOF).

A mortar shell struck the UN base in Quneitra, injuring one peacekeeper, Israeli media reported. Austria's 380 UNDOF peacekeepers had withdrawn to their bunkers, and suffered no casualties. An Austrian Defense Ministry crisis committee has met to discuss the incident, Col. Bauer told AP in Vienna.

However, it remains unclear who now controls the UNDOF post, with conflicting reports emerging from both sides. The rebels reportedly opened fire on the Syrian forces, who retaliated with fire from tanks and armored vehicles. There have also been reports that the Israeli-occupied Golan Heights was shelled by Syrian government forces.

"The heroes of the Liberation of Quneitra Front, in collaboration with the heroes of al-Mutasem bi-Allah brigade, have liberated the border crossing with Israel," the rebels declared on Facebook.

But several hours after the checkpoint was reportedly seized, Israeli security sources said the Syrian army had recaptured the area. "The Syrian army has recovered control of the crossing, there are sounds of explosions from time to time but far less than in the morning," an Israeli source said, speaking on condition of anonymity.

Separate reports have emerged claiming the Syrian army deployed tanks to the border region as part of its fight against the rebels. Syrian state news agency SANA said that government forces "repelled terrorist groups" that "tried" to take over the Quneitra crossing. SANA also cited an unnamed official as saying that a large number of rebel fighters were killed or injured.

Israeli military spokesperson Peter Lerner said that mortar shells fell on the Israeli side of the border near the Quneitra passage, CNN reported. Lerner also said that Israeli authorities have instructed farmers in the Golan Heights not to approach the border fence, due to the ongoing fighting on the Syrian side. Israel has reportedly moved tanks to the Israeli-occupied side of the border.

The UK-based Syrian Observatory for Human Rights reported that a "campaign of simultaneous attacks" was underway against Syrian government checkpoints in Quneitra Province.

The battle for the Quneitra checkpoint comes just a day after Syrian troops, backed by Lebanese Hezbollah fighters, retook the key town of Qusayr after a weeks-long siege.

However, the siege combat was apparently in violation of a ceasefire agreement with Israel after the 1973 war. The region is located in a strategic area near main supply routes some 10 kilometers from the Lebanese border.

You can share this story on social media: