Israel bombs missile shipment in Syria - reports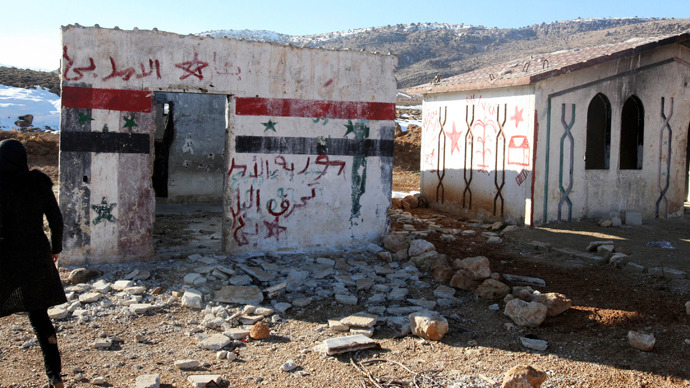 Israeli sources confirm that the Air Force has conducted an airstrike on Syrian territory. Anonymous officials said the strikes targeted a shipment of advanced missiles.
The unnamed officials told AP and Reuters the target weapons were not chemical, but were bound for Lebanon's Hezbollah movement and were sophisticated enough to prompt the Israeli strike on early Friday.
The attack took place after Israeli Prime Minister Benjamin Netanyahu's security cabinet approved it in a secret meeting on Thursday night, a regional security source said. It was the second reported Israeli air strike on a target in Syria in four months.

But Amos Gilad, a senior Israeli defense official, denied reports of the strike: "I don't know what or who confirmed, who are these sources? In my book only the IDF's spokesperson unit is official," he told Ynetnews.
Syrian government sources also denied having information about a strike: "I'm not aware of any attack right now," Syrian ambassador to the United Nations, Bashar Ja'afari told Reuters.
Meanwhile, a commander and spokesman for the rebel Free Syrian Army confirmed the strike did indeed take place.

"Our information indicates there was an Israeli strike on a convoy that was transferring missiles to Hezbollah. We have still not confirmed the location," Qassim Saadedine said.
Rebel units disagreed about what type of weapons were in the convoy. According to a rebel from an information-gathering unit in Damascus that calls itself "The Syrian Islamic Masts Intelligence," the convoy was carrying anti-aircraft missiles.
Saadedine said he did not believe the weapons were anti-aircraft. "We have nothing confirmed yet but we are assuming that it is some type of long-range missile that would be capable of carrying chemical materials," he said.
The New York Times reported that according to some American officials, the weapons had been advanced surface-to-surface missiles originating from Iran, and were being stored in a warehouse at Damascus International Airport. An unnamed US official added further that they believe the missiles to have been Fetah-110s, which he said could easily reach Tel Aviv from southern Lebanon. The Americans are unsure at this point whether the missiles were intended for use by Hezbollah or by the Syrian military.

Some prominent Israeli defense officials have claimed the missiles to be the less advance Scud Ds, NY Times said.

In a similar airstrike in January, Israeli warplanes destroyed what was reported as a convoy of advanced air defense missiles that Syria wanted to hand over to Hezbollah. Damascus said the target was a military research facility and denied trying to transfer advanced weapons to its ally. The surface-to-air missiles would compromise Israel's ability to enter Lebanon's airspace unhindered.

On Friday media in Lebanon reported that Israeli jets conducted several sorties into Lebanese airspace, with some of them flying in circles over the capital, Beirut. Lebanon's army website had listed an unusual 16 flights by Israeli warplanes penetrating Lebanese airspace from Thursday evening through Friday afternoon local time. Lebanon's President Michel Suleiman condemned the flyovers, branding them a "continuation of Israel's policy of aggression" and called on the international community to put pressure on Tel Aviv to stop this practice.

Israeli Embassy spokesman Aaron Sagui did not comment Friday night specifically on the report of an Israeli strike.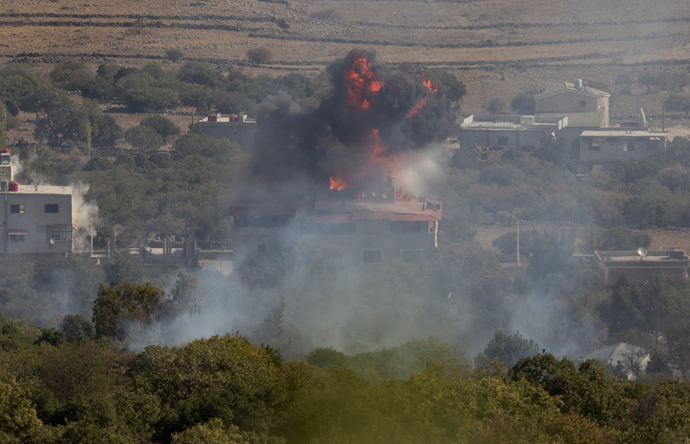 "What we can say is that Israel is determined to prevent the transfer of chemical weapons or other game-changing weaponry by the Syrian regime to terrorists, especially to Hezbollah in Lebanon," Sagui said via email to the AP.
Journalist and Middle East analyst Kris Janssen contends that the Israeli attack targeted Syria's weapons transfer to Hezbollah because "from the tactical point of view it makes no sense." He argues that instead the purpose of the attack was to slow down the Syrian national army in its operations against the armed groups on the border with Lebanon.
"During the last few weeks the Syrian national army was very successful against the armed groups on the Lebanese border," Janssen told RT. "The army retained a lot of territory and destroyed command infrastructure of armed groups. This is not what Israel and its Western allies expected and the reason for this attack, if it indeed took place, was to slow down the Syrian army or even stop the Syrian army in its progress against the armed groups on the Lebanese border."
The alleged overnight strike comes days after Hezbollah leader Sayyed Hasan Nasrallah voiced support of the Syrian government in a televised speech. The militant movement has significant political influence in neighboring Lebanon.
But the country itself has a significant Sunni population, and many of those people sympathize with the Syrian rebels. The argument over which side in the Syrian civil war Lebanon should support has sparked violent clashes in Lebanon on several occasions.
Israel has largely avoided interfering in the Syrian conflict, which has cost many thousands of lives. The government of Bashar Assad is technically at war with the Jewish state, inheriting the unresolved conflict from the 1967 War, in which Israel captured the Syrian Golan Heights. Syria has been allied with anti-Israel forces in the region for decades.
However, many of the rebels trying to oust Assad are hardcore Islamists and enemies of Israel. Israel's involvement on one side of the conflict is likely to give credibility to the other and spark anti-Israeli sentiments in the war-torn country.
The strike "places a very different view on the civil war in Syria. At this point the Syrians are not going to do anything physically, but they will say politically that the Israelis are trying to overthrow the Assad government and therefore anybody who supports the overthrow of the Assad government is in alignment with Tel Aviv," Conn Hallinan, contributing editor for the US think tank Foreign Policy in Focus explained to RT.
The January strike was not publicly confirmed by Israel, with Israeli officials each time stopping short of direct acknowledgement. In one of the most recent statements, Defense Minister Moshe Ya'alon told journalists that delivery of Syrian weapons to Hezbollah was considered a "red line." Ya'alon then said Israel would not permit "sophisticated weapons" to fall into the hands of "Hezbollah or other rogue elements."
"When they crossed this red line, we acted," Ya'alon said on April 22 in what was regarded as a reference to the alleged Israeli airstrike in January.

You can share this story on social media: