Israel fighter jets enter Lebanese airspace, hit targets on Syria border - reports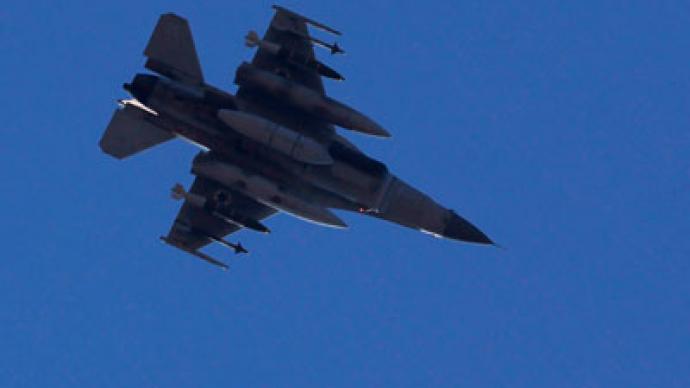 Israeli air force jets reportedly attacked a target on the Syria-Lebanon border after repeatedly violating Lebanese airspace Wednesday night. The Syrian military, however, says the jets targeted a scientific research center near Damascus.
The overnight IAF strike was directed at a weapons convoy traveling from Syria into Lebanon, RT correspondent Paula Slier reported from Israel, citing Lebanese media. The convoy may have been moving anti-aircraft rockets from Syria, Slier added, citing foreign sources who spoke on Israeli TV.

"There was definitely a hit in the border area," the source told Reuters on condition of anonymity, without elaborating further.
Several squads of Israeli air force jets breached Lebanese airspace overnight, the Lebanese army reported in a statement earlier on Wednesday. The army said that four warplanes flew over the southernmost coastal town of Naqoura and hovered for several hours over villages in southern Lebanon before leaving the country's airspace.
The airstrike came amid Israeli concerns over Syrian chemical arms falling into militants' hands. The Israel Defense Force refused to confirm or deny the reports. "We do not comment on reports of this kind," an IDF spokesperson said.
Later on Wednesday, the Syrian army's general command has issued a statement claiming that Israeli warplanes violated Syrian airspace and launched a direct strike on a military research center in Jamraya, near Damascus.
Over the past week, there has been a dramatic increase in the number of IAF planes sighted in the airspace of Lebanon, which borders Syria. At least 12 jet missions were reported by the Lebanese military.
The reports come amid concerns voiced by Israeli officials that Syrian chemical weapons and anti-aircraft missiles could fall into the hands of Hezbollah militants in Lebanon.
"It is necessary to look at our surroundings, both at what is happening with Iran and its proxies, and what is happening in other arenas – lethal weaponry in Syria, which is steadily breaking up," Israeli Prime Minister Benjamin Netanyahu said during a Sunday cabinet meeting.
Israel recently threatened to launch a preemptive strike on Syria if the Assad regime loses control of its chemical weapons stockpiles. The moment that Israelis "begin to understand" that chemical weapons are about to be seized by Hezbollah or Syrian rebels, the decision to take preventive military intervention could be made, Israeli Deputy Prime Minister Silvan Shalom said on Sunday.
IAF commander Amir Eshel issued a statement warning that Syria's huge chemical weapons arsenal faces an uncertain fate in a "country falling apart."

An Israeli air force F15-E fighter jet.(Reuters / Baz Ratner)