Syrian rebels abduct 4 UN peacekeepers near Golan Heights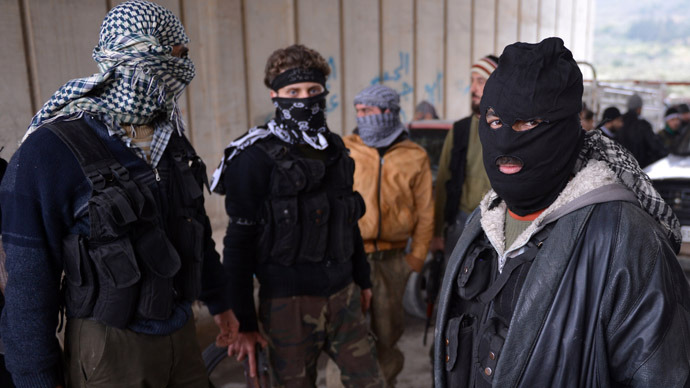 Syrian rebels have abducted four UN peacekeepers monitoring a ceasefire line between Syria and the Israel-occupied Golan Heights, a UN peacekeeping spokesman has said.
A Syrian rebel group identified as the "Yarmouk martyrs brigade" claimed responsibility for the act, saying the peacekeepers had been detained for their own safety after clashes erupted in the separation zone between Syria and Golan, Reuters reports. They further said the presence of Syrian government forces threatened the safety of the peacekeepers, as well as "criminal elements" in the area.
The rebel group made the announcement via their Facebook page, which was accompanied by a picture of four peacekeepers wearing the signature light-blue UN flak jackets marked "Philippines."

The peacekeepers were seized while on patrol  near the Syrian village of Jamla,  the same area where 21 Filipino observers were taken and held for three days in March, a UN spokesperson said. The Yarmouk martyrs brigade was also responsible for the March abductions.
The rebel unit has suspected UN peacekeepers of shielding Syrian government troops, who the armed fighters accused of killing civilians during an army sweep of Wadi Raqat, a town in southern Syria, AP reports.
Kieran Dwyer, a spokesman for the UN, said "efforts are underway to secure their release now."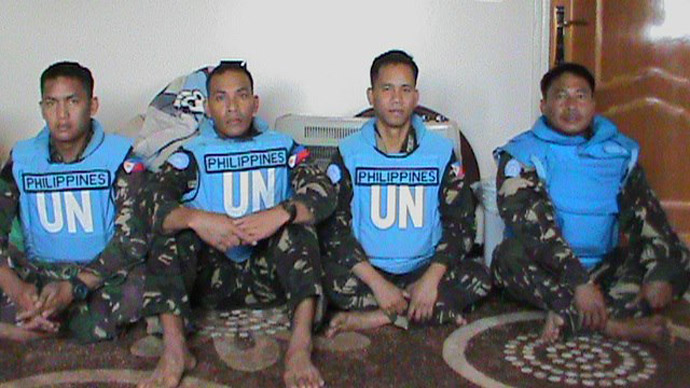 UN Secretary-General Ban Ki-moon has strongly condemned the detention of the four peacekeepers and called for their immediate release. The UN chief called on all parties "to respect UNDOF's freedom of movement and safety and security," as quoted by his spokesman.
The UN Disengagement Observer Force (UNDOF) consists of some 1,000 troops and is only equipped with light arms, though the UN deployed additional armored personal carriers, security equipment and ambulances following the March incident.
UN peacekeeping forces have been in the Golan Heights since 1974.
Israel first captured the Golan Heights from Syria during the 1967 war. The country agreed to return the land to Syria in return for a peace agreement that was rejected by the Arab world.
During the 1973 Yom Kippur War, Syrian forces crossed the ceasefire line into the Golan Heights in an attempt to retake the territory. Syria's troops were repelled by Israeli forces.
Israel annexed the Golan in 1981, though they returned about 5 percent of the territory to Syria. The land was merged into a demilitarized zone.
You can share this story on social media: