International military operation looms for Syria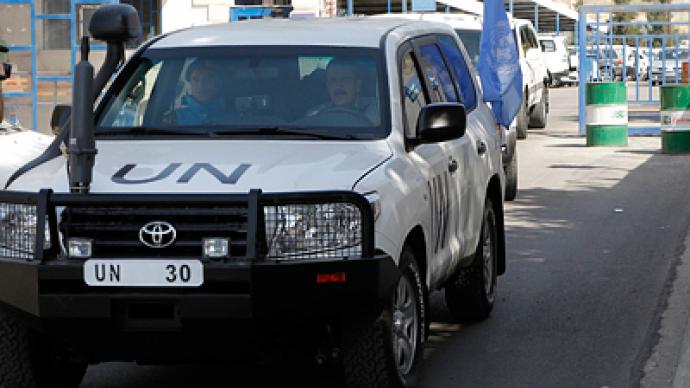 The new ceasefire set for May 5 could prove a turning point in the Syrian conflict. If the truce fails, an international peacekeeping intervention might become a reality.
Growing frustration over ongoing violence in spite of a recent ceasefire agreement is pushing world powers to search for new means to influence the confrontation.A new ceasefire date, May 5, has been set to give mediation a chance. The peace process has been "severely compromised" recently, said Alain Juppe, French Foreign Minister on Wednesday.As the UN Security Council has authorized the deployment of 300 international observers to monitor the situation, Juppe believes the new ceasefire will become a "moment of truth" to define whether mediation can resolve the conflict.France noted on Wednesday that the UN Security Council has the right to start a military operation against an aggressive power. Juppe said that Paris and other world powers have discussed invoking Chapter VII of the UN Charter, which says order can be enforced militarily.The Charter says the UN Security council has the right to use force in a conflict "in order to prevent an aggravation of the situation".A military operation can in this case be mounted using troops of the organization's member states.Right now, it seems there is still time for more travel, financial and arms sanctions against the regime of President Bashar Assad. But if neither sanctions not peace efforts can end the violence in Syria – western powers could change their rhetoric in the UN Security Council.Based in Istanbul, the Syria National Council has asked the UN Security Council to call an emergency meeting to adopt a resolution protecting civilians in Syria. The SNC claims Syrian authorities have toughened repressions against opposition with more "raids, arrests and executions of citizens".Syrian authorities put the blame on the opposition for continuing the violence in regions which it controls.Russian Foreign Ministry spokesman Aleksandr Lukashevich said on Thursday that "Syrian opposition has adopted total terror tactics on a regional scale".Armed insurgents reportedly backed from abroad continue to kill Syrian servicemen and state officials on a daily basis, local sources say. Troops and security forces loyal to president Bashar al-Assad carry out clean-up operations in residential quarters of Syrian cities and hunt down militants.
Peace efforts first
A proposal for an international military operation in Syria is unlikely to get consensus in the UN Security Council if put to a vote because of the position of Russia and China. The two permanent members of the Council have previously vetoed two separate resolutions on Syria, saying they did not take into consideration the position of the legitimate Syrian government.Thus any mention of a possible military operation against Damascus would most probably be adamantly opposed by Moscow and Beijing.The duty of International community is to defend the sovereignty and peace in Syria, believes Christoph Horstel government and business consultant from Germany."We cannot allow a group of countries even if it's NATO to plunge peaceful nations into war even if we are criticizing Assad's government," he said.He also said the US has a crucial role in the way the situation is unfolding in Syria."Without the United States of America any interference in Syria would not have been possible. It is very clear that neither Qatar nor Saudi Arabia, nor France, nor Britain, nor Turkey would dare do anything in Syria without a green light from Washington."
Turkey wants NATO to press Damascus
Ankara has once again accused Damascus of violating its borders and shooting at a refugee camp on Turkish territory. Allegedly, three refugees were killed and over 20 wounded.Turkey has threatens the al-Assad regime that it will address NATO if the Syrian army does not stop violating the border while pursuing militants. Syria insists the insurgents are using refugee camps in Turkey as a safe haven.Ankara claims as many as 30,000 Syrians have crossed the border to hide in Turkey since the beginning of the conflict. The over-one-year-old confrontation in Syria is reported to have claimed the lives of more than 9,000 people.
You can share this story on social media: