40 dead, over 120 injured in Syria ammo depot blast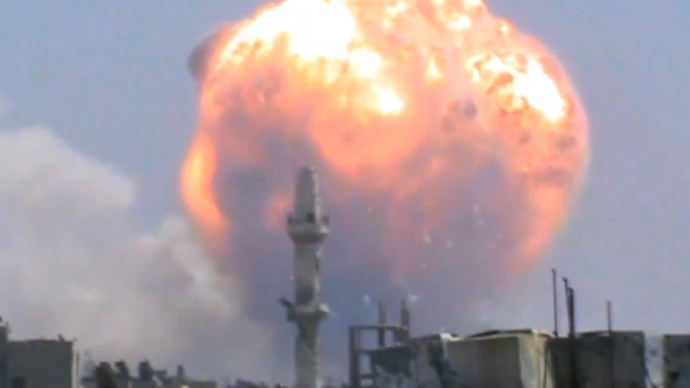 At least 40 people have been killed and over 120 injured after an ammunition depot exploded in the battle-torn Syrian city of Homs. The blast happened shortly after a spate of rebel rocket fire.
So far 40 are confirmed dead, but the number is expected to rise as there are many severe casualties among the wounded. A number of people are unaccounted for.  
The ammunition depot was located in a southern government-held region of the city, and was operated by pro-Assad forces. The explosion was apparently triggered by rebel rocket fire which targeted two districts named Wadi al-Zaha Akruma and Al-Nozha.  
"[The] ammunition depot blew up in the pro-regime Wadi al-Zahab district after rocket fire, most probably by rebels," said the Syrian Observatory for Human Rights.

Meanwhile an anonymous official in Homs told AP that six people were killed and 130 wounded when about 10 rockets smashed into the neighborhood of Zahra.
A doctor living in Akruma told Agence France Presse that residential districts were struck, causing apartment blocks to collapse. The blasts sent a huge ball of fire in the sky and triggered widespread panic among local supporters of President Bashar Assad. Locals on the ground said blasts were heard for more than an hour after the first explosion. 
The explosion follows the government's recapture of the Khaldiyeh district on Monday which has been under rebel control for two years. The blasts also came hours after President Assad visited a former rebel stronghold in Daraya to mark Army Day, the first known public trip outside the capital in over a year.
Since the start of the conflict in Syria in March 2011, more than 100,000 people have been killed. International aid agencies believe that at least 1.4 million Syrians have been displaced since the start of the civil war and are now living in tents, temporary settlements, or over-crowded and expensive rented accommodation.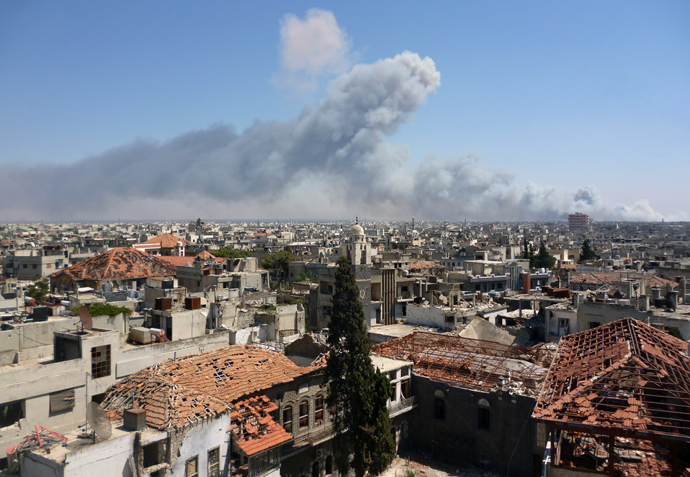 You can share this story on social media: