Blast near Sweden's and Finland's Benghazi consulates, no casualties reported
Published time: 11 Oct, 2013 09:49
Edited time: 11 Oct, 2013 17:36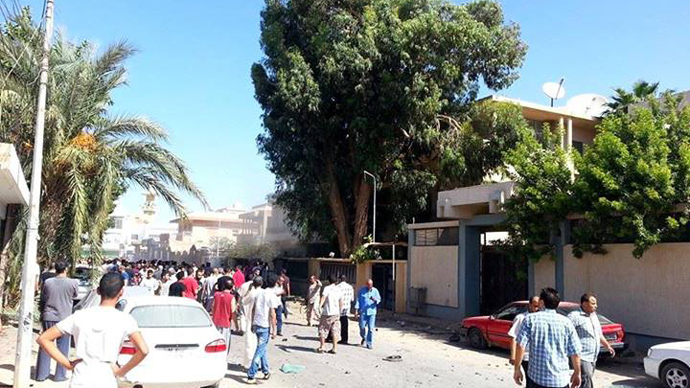 A car bomb explosion has hit the building that houses the Swedish and Finnish consulates in Libya's troubled city of Benghazi, causing no casualties, but badly damaging the building and property nearby, Libyan and Swedish officials confirmed.
A car bomb turned out to be the source of the explosion, which damaged the front of the building and the surrounding houses. 

Colonel Abdullah Zaidi, a security official, confirmed to AFP that "a powerful explosion in front of the Swedish consulate caused damage to it and neighboring buildings, but no casualties."
The Swedish and Finnish consulates are among a few diplomatic missions still operating in conflict-torn Benghazi, which was the birthplace of the 2011 uprising against Gaddafi.
The building is located in the city's Al-Fouhiet district, not far from the Egyptian consulate – itself the target of a bombing two months ago.
The incident takes place a week after an attack on the Russian Embassy in Libya's Tripoli, as well as a recent US raid that captured a suspected top Al-Qaeda operative in the same city.

Libyan Islamists have expressed public outrage over the raid, with the fallout so far including the kidnapping of the country's prime minister, Ali Zeidan, by unknown gunmen in civilian clothes early Thursday morning, before having to free him later after a shootout with another armed faction.

Instances of attacks on diplomatic missions have been very high in Libya in the two years since the Western-aided armed uprising that deposed its autocratic ruler Moammar Gaddafi.  In September 2012 the American consulate in Benghazi was surrounded by militants and set on fire, leading to four fatalities, including the US ambassador.

The attack on the US mission came a few days after worldwide protests by Muslims broke out against an amateur-quality video made in the US ridiculing the Prophet Muhammad.
The attackers set fire to the building, which ended up being almost entirely incinerated. There were reports of fierce gunfights between the attackers and Libyan security forces, as well as rocket-propelled grenades fired at the consulate from a nearby wall.

Although the attacks on diplomatic missions have all been blamed on Islamists, no-one has directly claimed responsibility.