Eye for an eye? Libyan militants seek vengeance for Al-Qaeda leader's capture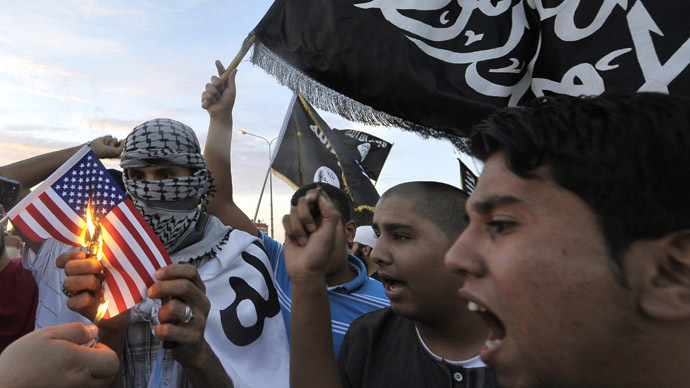 Libyan jihadists have called for retaliation after the rendition of an Al-Qaeda leader in Tripoli, saying militants should kidnap US citizens and attack gas pipelines, ships and planes.
The statement released by the Libyan authorities on Tuesday has called for an "immediate surrender" of Abu Anas al-Liby, who is accused of playing a key role in the 1998 bombings of American embassies in Kenya and Tanzania.   

The document, which was passed by the General National Congress, has labeled the US operation in Tripoli as a "flagrant violation of (Libyan) national sovereignty," Al Jazeera reports.

The MPs also want the US to allow the Libyan authorities and family members to get in touch with Liby and guarantee the suspect access to a lawyer.

The statement come after US ambassador, Deborah Jones, was summoned to Libya's Justice Minister to provide an explanation for the unannounced raid.

Libya's Prime Minister, Ali Zeidan, said that all Libyan citizens should be tried for their crimes on home soil. However, Zeidan has made it obvious he doesn't want relations with the US spoiled over the incident.

"Our relationship with the USA is one of friendship and cooperation. They helped us with our revolution. Our relationship will not be affected by this event, which we will settle how we need to," Reuters reported Zeidan as saying.

Meanwhile, Barack Obama said that Abu Anas al-Liby has executed plots that killed Americans and "he will be brought to justice."

He promised that the US will continue to pursue al-Qaeda-linked groups in Africa, adding that it was not the same as going to war there.

"There is a difference between us going after terrorists who are plotting directly to do damage to the United States and us getting involved in wars," Obama told a news conference. "Where you've got active plots and active networks, we are going to go after them."

Libyan militants seek vengeance for Al-Qaeda leader's capture
Jihadists in Libya have launched an online campaign, calling for retaliation for Liby's abduction and urge militants to kidnap US citizens and attack gas pipelines, ships and planes.

"The real Libyan hero rebels should kidnap an American in Libya to negotiate for our brother Ruqai's release," says a Facebook comment cited by the New York Times, referring to Liby's real name, Nazih Abdul-Hamed Nabih al-Ruqai.

The NY Times also reports that almost immediately following the news of Liby's capture a new Facebook page, called: "We are all Nazih al-Ruqai, O America" quickly gained 2,000 subscribers.

Other messages called on Libyans to kidnap US citizens to exchange them for imprisoned militants. Libyans were also urged to damage pipelines exporting gas to Europe, and to target ships and planes.

"Libya today is still a place of disbelief that is ruled by something other than the Shariah of Allah; thus, there is no security for disbelievers there," Reuters cites one of the messages posted on a Facebook page called "Benghazi is Protected by its People."

The Libyan government has also become target for online threats as the Islamists accuse it of conspiracy with the US.

"We say that this shameful act will cost the Libyan government a lot and it will be as you will see and not as you hear," a message on a jihadist web forum reads.

On Monday, some 200 heavily armed Marines were moved to the US naval base at Sigonella, Italy, from their base in Spain to respond to any potential security crisis at the US embassy diplomatic mission in Libya, CNN cited a US military official as saying.

Liby, who was taken into US custody Saturday, is now reportedly being held aboard the USS San Antonio, where he is being interrogated by the US High Value Detainee Group, an inter-agency group led by the FBI.

He was indicted by a US Federal Court in 2000 for his alleged role in the 1998 US Embassy bombings in Kenya and Tanzania, which left 224 people dead.  Liby is on the FBI's Most Wanted list with a $5 million bounty on his head.

You can share this story on social media: