Suicide attack at Afghanistan mosque kills 10, including governor
Published time: 30 Aug, 2013 05:47
Edited time: 30 Aug, 2013 07:41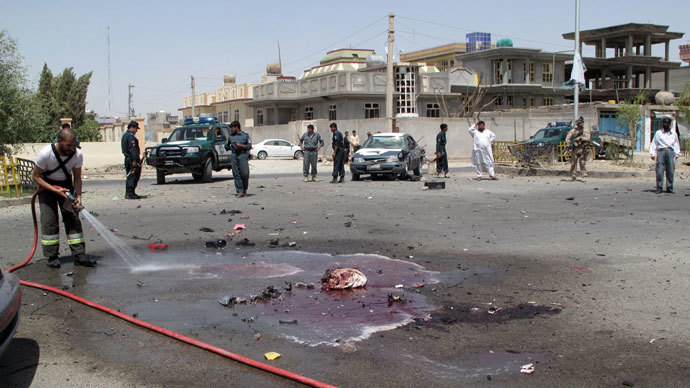 A suicide attack in the northern Afghan province of Kunduz took the lives of 10 people, including a district governor and his entourage at a mosque on Friday morning, government officials said.
The attack, which claimed at least 10 lives, wounding a further 20, happened during a ceremony for a tribal elder who died the previous day.

The governor's spokesman, Enayatullah Khaliq told Reuters that "officials... were attending a prayer in a mosque when a suicide bomber detonated his explosives."
This is the latest in a string of attacks across Afghanistan this week, with insurgents seeking to upset the security situation ahead of a major withdrawal of international troops by the end of 2014.

The district governor, Sheikh Sadruddin was an active figure in the fight against the Taliban and has been occupying the post since 2002.

Government officials, associated aid groups and the armed forces have this week become targets of revenge killings in areas previously thought to be safer.
In one of the country's more stable and economically flourishing provinces – Herat, six men working for a development program were executed.
Security forces were also hit hard this week, after an ambush in western Farah killed 15 policemen, with four more killed in Ghazni to the east, following a Taliban attack on an international base. Several soldiers were also killed in Helmand province, in the south of the country where the Taliban have a firm foothold.
However, civilian death numbers remain highest, with more than 20 people killed this week in attacks, 50 of them wounded in the Ghazni attack alone.
The Kunduz Province borders the Republic of Tajikistan. It is home to the NATO-ISAF Provincial Reconstruction Team and Regional Command North and has largely been peaceful until to 2009, when Taliban elements started to flock to the area.