More women, children killed in 2013 in Afghanistan - UN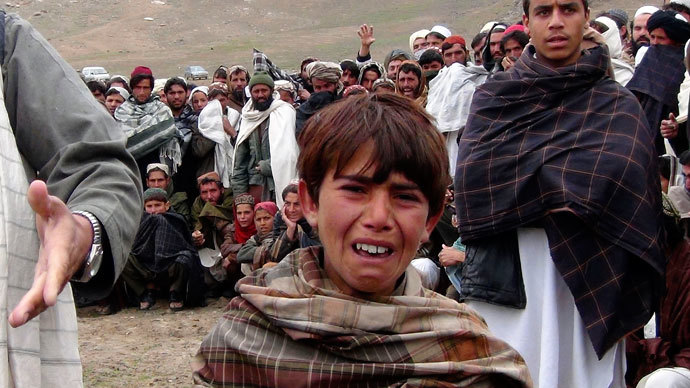 Total civilian casualties in Afghanistan have jumped by 23 percent, with the number of children killed rising by nearly a third. The surge in violence comes as Afghan security forces take over responsibility for the country's security from NATO forces.
In its latest 78-page Mid-Year Report on the Protection of Civilians in Armed Conflict UN said that 1,319 civilian were killed, including women and children, and 2,533 injured,with total casualties standing at 3,852 from January 2013 to June 2013. 
This marks a "a 14 percent increase in deaths, 28 percent increase in injuries and 23 percent increase in total civilian casualties compared to the same period in 2012."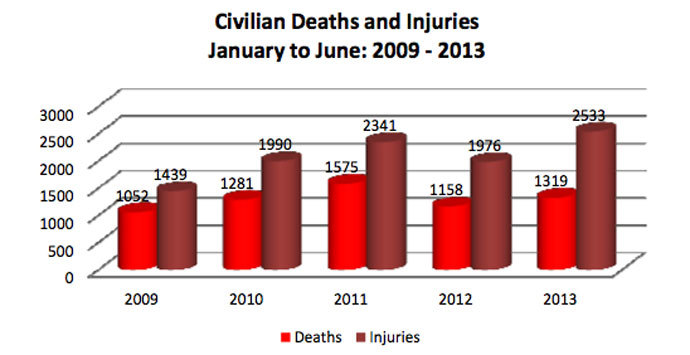 The United Nations Assistance Mission in Afghanistan (UNAMA) further documented a "23 percent increase in total civilian casualties compared to the same period in 2012."
UNAMA reported that 74 percent of civilian deaths and injuries were caused by "Anti-Government Elements", 9 percent by "Pro-Government Forces" and 12 percent by "ground engagements between Pro-Government Forces and Anti-Government Elements". The other four percent of civilian casualties "were unattributed caused mainly by explosive remnants of war", according to the report. 
The biggest threat in Afghanistan remains improvised explosive devices (IEDs), which killed 53 percent more civilians than last year, the majority being children.
The second biggest killer was the fighting between security forces and insurgents, with both sides sharing responsibility for the bloodshed.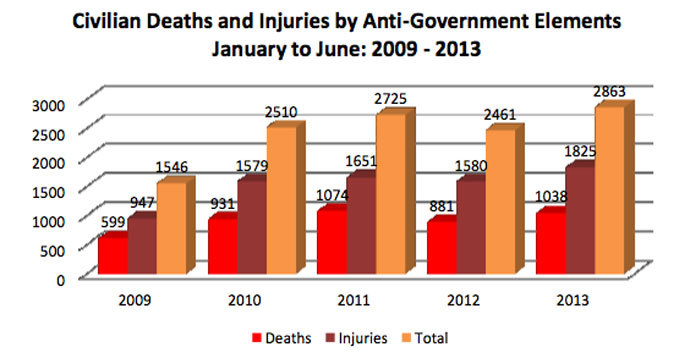 Insurgents killed three-quarters of civilians, who are often targeted for cooperating with the government.
Afghan local police are said to have killed 60 percent more civilians in 2013 than last year, with members of the security force accused of murder, rape and torture.
The report also noted a rise in clashes between unaligned armed groups, which helped the Taliban take control in Afghanistan in the 1990s, the report said.
Insurgents intensify attacks as foreign troops depart
The UN confirmed that insurgents have intensified their attacks in Afghanistan, especially around the closed international bases. And the sharp rise in civilian deaths has raised concerns about the Afghan military's ability to fight off the insurgents as foreign troops withdraw from the country.
The Afghan army is known to have one of the world's highest desertion rates and a lack of logistical and medical support.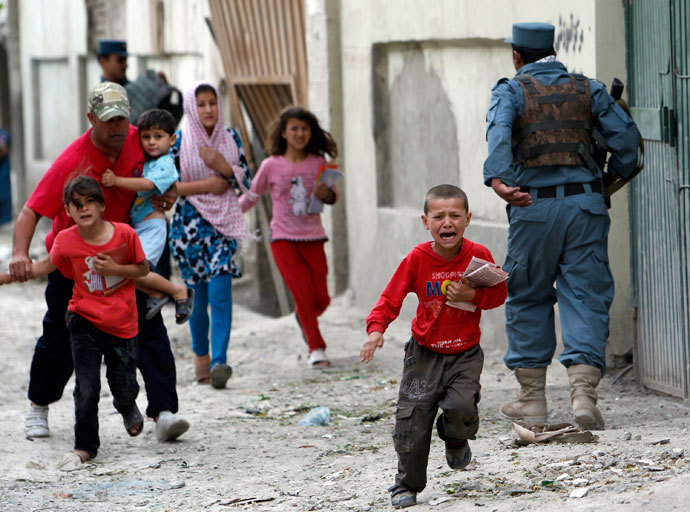 The Report also noted that the US army opened up an investigation into allegations of war crimes in the Wardak province in Afghanistan between November and February. Witnesses told UNAMA that US soldiers and Afghan interpreters were seen at multiple crime scenes. 

A NATO spokeswoman revealed on Tuesday that the army has launched an investigation into allegations of the abduction and killing of Afghan civilians, claims Washington had previously denied. 
The investigation was started after an Afghan interpreter accused US soldiers he had previously been attached to.
The Afghan translator Zakeria Kandahari, who says he worked for US Special Forces over the past nine years, was detained on suspicion of torturing and murdering civilians. He has accused US Special Forces of being behind the atrocities, but denied personal responsibility.
Police claimed Kandahari took part in the torture and murder of Afghan civilians in Wardak Province. At least nine corpses have been recovered in the region, one belonging to Sayid Mohammed, a local resident who was last seen being taken into US custody and whose body was found mutilated and footless. Mohammed's corpse was found in close proximity to the Nerk Special Forces base in May.
The US is wrapping up its Afghan campaign this year. After the planned pullout of troops is completed by 2014, only a limited military contingent not directly engaged in combat is expected to stay. Afghan security forces are then to completely take over responsibility for security in the insurgency-ravaged country.
You can share this story on social media: