Strauss-Kahn's resignation creates fears for euro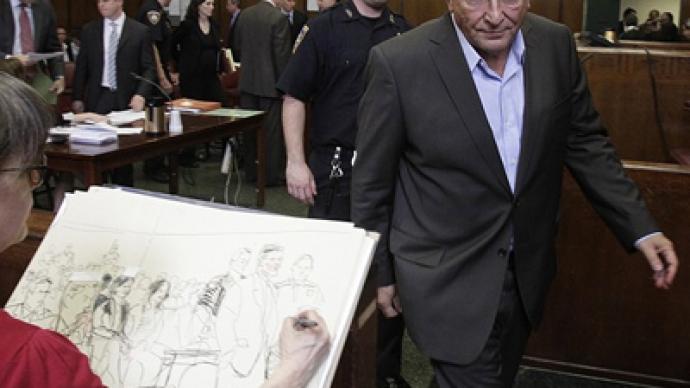 The former IMF chief, accused of sexually assaulting a hotel maid, has been granted bail of US$1 million. Dominique Strauss-Kahn was the euro's ardent protagonist and economists fear his arrest could lead to the demise of the currency.
When released, the former IMF managing director will swap his prison cell in a notorious Rikers Island jail for house arrest in a Manhattan apartment. He will also be tracked by GPS and watched 24-hours a day by armed guards.Now that Strauss-Kahn has resigned, some European states fear efforts to protect the euro could finally be sunk, thereby worsening the economic downturn.
No Strauss-Kahn – no euro
No Strauss-Kahn…no euro. That is what bankers are whispering, after police charged the now ex-IMF boss with the attempted rape of a hotel maid."There is very definitely the possibility that some countries could decide to leave the euro or could be pushed out of the euro," said Alexander Law, chief economist with Xerfi group. "There you have got to understand that Dominique Strauss-Kahn believed the euro could or should be saved."In the face of nasty resistance from richer states, Strauss-Kahn led this week's bailout of crippled Portugal. Germany and France insist Ireland raises its low corporation tax.  DSK, as he is known, was the man arguing it is what is saving the Irish economy."I think that these allegations are going to be damaging for the work of the IMF as an institution, and he is definitely going to be missed at the EU meetings," said journalist and political analyst Nabila Ramdani.Strauss-Kahn even persuaded Greece's leader to stick with strict spending cuts despite riots on the streets."He has very good contacts to some of the EU heads of state and governments, so that made a difference," said Janis Emmanouilidis from European Policy Center. "He has good contacts, for example, to the Greek prime minister." On Thursday, Greece asked for more loans on better terms, but now that heavyweight europhile DSK has gone, few are backing another bailout.China is one of the IMF's top backers, contributing tens of billions of euros. The reward it wants is an Asian chief, who is not likely to be as Europe-friendly as Strauss-Kahn."He has been very personally very important in getting the IMF involved and assisting in designing these [European] bailout packages, but also coaxing and encouraging politicians to do the reforms necessary," said Jan Randolph, director of sovereign risk at IHS Global Insight. "Now you may not get the equivalent kind of person with the same kind of convictions coming from the emerging markets." When one of the world's biggest investment banks fell three years ago, it triggered a global recession we are still reeling from today. However, it is felt that driving the euro to extinction will only make matters worse."The consequences, probably, would be higher and much higher than was, for instance, the bankruptcy of Lehman in 2008," said Philippe Dessertine from the University of Paris. With EU economies at death's door, Dessertine warns that the demise of the world's leading banker comes at the worst possible time. This is not just the end of a career. Dominique Strauss-Kahn was instrumental to rescuing the eurozone's most troubled states. His arrest is now seen as threatening the end of the euro itself.
You can share this story on social media: