Thousands protest austerity measures in Spain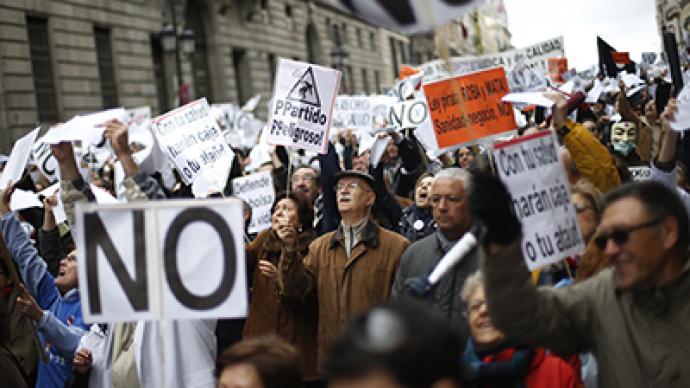 Several hundred thousand Spaniards have taken to the streets in 55 cities across the country in a union-organized protest against austerity on Monday night.
The demonstrations come just a day after a mass protest against healthcare cuts.The centre-right government of Prime Minister Mariano Rajoy is committed to 60 billion euros worth of cuts through 2014.On Monday Rajoy defended his government's austerity plan saying, "there are no easy answers for difficult situations, (but) we are trying because it is our obligation to rectify this situation," adding that the economy should improve in 2013, despite the prediction of of 1.3 percent shrink next year.The government says the austerity is designed to restore trust from international lenders, who are propping up the indebted country. Earlier this month, Standard & Poor's rating agency downgraded Spain's credit rating to BBB- just one above junk.The government's measures have been met with mass public protest as Spaniards have seen their incomes vanish and their house values plunge.The country has alternated between periods of contraction, followed by a weak recovery since property prices collapsed during the worldwide economic crisis in 2008."The Spanish economy was built on an unsustainable property bubble, and Spain was spending lavishly, living on the never-never," Patrick Young, a prominent independent financial advisor and author, told RT."The ultimate problem is that the Spanish government does not have any money."Alongside Greece, Spain has the worst unemployment problem in Europe. A quarter of the population is currently out of work.The government believes that a re-structuring of its public sector and a substantial bank reform will eventually make the country more competitive, and create more jobs.
You can share this story on social media: