End to evictions in Spain? Locksmiths refuse to help oust owners amid austerity drive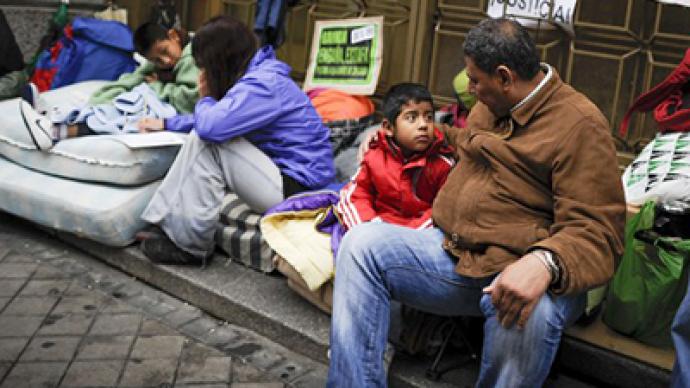 Dozens of locksmiths in the Spanish city of Pamplona have vowed to stop aiding authorities in evicting delinquent homeowners. The locksmiths said they would not assist in evictions that led to over 100 suicides in 2012.
­If a house's locks remain unchanged, the evicted family could return whenever they liked, forcing authorities to start another – sometimes months-long – eviction process.
"As people, we can't continue carrying out evictions when people are killing themselves," Pamplona locksmith Iker de Carlos told PRI (Public Radio International).
Many eviction cases have ended in tragedy: More than 100 Spaniards committed suicide in 2012 after being kicked out of their homes.
In November, the suicide of 53-year-old Amaia Egaña – who jumped to her death from the fourth floor of her building after she was issued an eviction notice for defaulting on her mortgage payments – triggered protests across Spain. Thousands marched and chanted slogans such as "This isn't suicide, this is homicide," "They get the money and we get the dead" and ''Banker, remember – we have rope.''
Following Egaña's death, Barakaldo judge Juan Carlos Mediavilla pointed out that it was "necessary to amend current mortgage legislation" to prevent the recurrence of such events, while Employment and Social Security Minister Fatima Banez said the government deeply regretted Egaña's death.
At the end of October, three suicides in three consecutive days also led to public outcry. A young man threw himself off a bridge in Gran Canaria after losing his job and receiving an eviction notice, while a 53-year-old man in Burjassot jumped from his second-story flat. In the southern province of Granada, 54-year-old Jose Miguel Domingo hanged himself minutes before bailiffs arrived to evict him from his home.Unemployment in Spain currently stands at over 25 percent, and continues to rise. In 2008, the country's housing market collapsed, causing widespread homelessness. Some 50,000 Spaniards were kicked out of their homes in the first half of 2012, and over 1 million homes across the country are unoccupied, Reuters reported. Nations gripped by the ongoing financial crisis have seen an upsurge in suicides and anti-depressant prescriptions related to financial problems, as people struggle to make ends meet.The suicide rate in Greece has risen dramatically, with the country's health ministry indicating a 40 percent jump in suicides in the first half of 2010. In 2011, that number stood at 25 percent in Athens and 18 percent across the country.In Italy, suicides caused by economic difficulties have increased 52 percent in recent years, to 187 in 2010 from 123 in 2005, the New York Times reported.
You can share this story on social media: