Two suicides in two days: Greece sees social backlash of crisis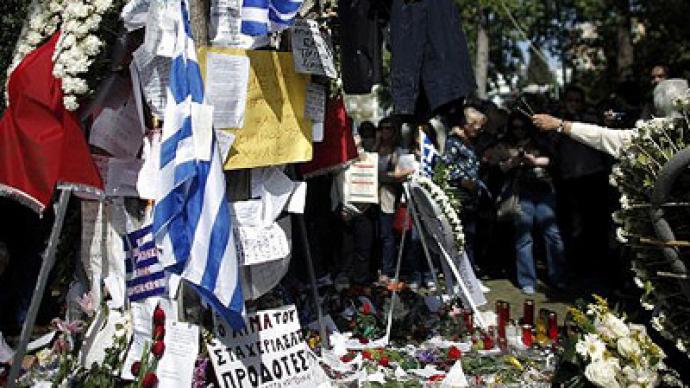 Two Athenian men have leaped to their death in as many days as suicides in Greece continue to rise. Experts associate the growing suicide rate with the disillusionment of the Greek population at the unabated financial crisis.
A 70-year-old man in the capital Athens took his own life by jumping from his flat after a court clerk stopped by to issue him an eviction notice on Friday.Upon receiving the notice, the man immediately went to his balcony on the third floor of an apartment block in the neighborhood of Galatsi and threatened to jump.Despite the clerk's pleas to dissuade him, the man committed suicide. The previous incident happened on Thursday when a middle aged bank worker leapt from the Acropolis at around 09:00 a.m. local time. He had reportedly left work for a morning break shortly after arriving and never came back.He was a worker at state-owned agricultural lender ATEbank, which had run into problems during the crisis. Police in Athens say there is no evidence to suggest that the man had any financial problems.There has been a sharp rise in the number of suicides in Greece which are widely viewed as a reflection of the country's economic woes. Before the crisis the country boasted one of the lowest suicide rates in Europe.However, Greek media have been reporting cases of suicide on a daily basis over the last month. Current statistics say that the number of suicides alone shot up by 25 per cent during 2011 in Athens and by 18 per cent countrywide. Increased use of anti-depressant medication and psychiatric care are also on the up in Greece.The suicide of Dimitris Christoulas, who shot himself in the head in front of the nation's parliament in the center of Athens, became a symbol of the Greek population's deepening despair over the spiraling crisis."I see no other solution than this dignified end to my life so I don't find myself fishing through garbage cans for sustenance," wrote the 77-year-old pensioner before committing suicide during rush hour on April 4.
You can share this story on social media: