Greek suicide epidemic continues: Debt-strapped pensioner hangs himself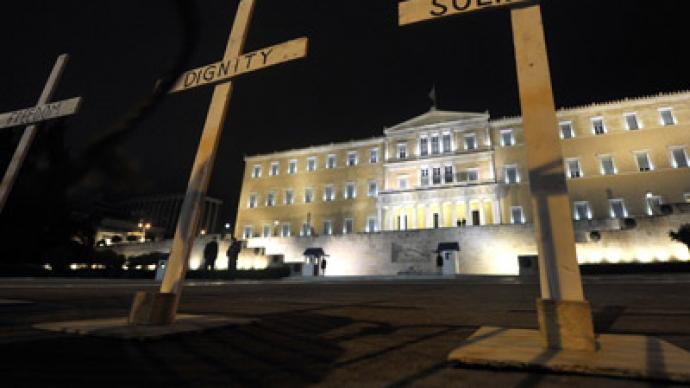 A 61-year-old Greek pensioner has hung himself from a tree in a public park after succumbing to the pressure of crushing debt. A note in his pocket indicates he is merely the latest in a rash of economic crisis-induced suicides.
The pensioner's lifeless body was found dangling by an attendant in a public park not far from his home in the suburb of Nikaia, Athens. The attendant also found a suicide note in the man's pocket, The Athens news reports.The man, identifying himself as Alexandros, said he was a man of few vices who "worked all day."  However, he blamed himself from committing one "horrendous crime": becoming a professional at the age of 40 and plunging himself into debt. He referred to himself as a 61-year-old idiot who had to pay, hoping his grandchildren would not be born in Greece, as the country's prospects were so bleak."Greece will be wiped off the map! Unless of course there was a politician with [Margaret] Thatcher's balls so as to put us and our state in line," he lamented.The father of two and former electrician had once run his own small business, but hard times forced him to close shop.He had apparently tried his hand at working as a contractor, including working on a ship, but was struggling to get by.His neighbors said they had seen him sitting on a park bench Tuesday in his work overalls. Apparently no one knew that desperation had put him on the verge of taking his own life.Crisis-bred suicides have become almost a daily occurrence in Greece over the last several months.Alexandro's suicide follows the death of a 42-year-old man on Tuesday. The man apparently jumped from the fifth story of a hospital in Chania, Crete, after losing his job several days prior.And last week, a 60-year-old Greek musician and his 91-year-old mother jumped to their deaths from their fifth floor apartment in an apparent suicide pact.The acuity of the problem came to a violet head last month after a 77-year-old man turned a gun on himself in central Athens, by the country's parliament.His death sparked violent clashes in Athens. Police used tear gas and flash grenades to fight back protesters who were enraged by the crushing austerity which they blamed for the man's suicide.
You can share this story on social media: