Russian cosmonauts perform record-breaking spacewalk (VIDEO)
Cosmonauts, Oleg Kotov and Sergey Ryazansky, spent 8 hours and 5 minutes in open space in Russian-made Orlan-MK space suits, setting a record for the longest Russian spacewalk.
The spacewalk has also become the longest at the ISS in 2013.
The mission of commander Oleg Kotov and flight engineer Sergey Ryazansky was to install two cameras on the outside of the International Space Station. The high and medium resolution cameras will facilitate taking pictures of the Earth from outside the ISS, and stream the images of our planet back home in near real time.
Kotov and Ryazansky placed the cameras but 'couldn't manage to switch them on,' according to the flight control team at the Russian Mission Control Center, who were unable to receive telemetry data from the equipment. So the task was aborted. Kotov and Ryazanskiy were told to remove the cameras and bring them inside the orbiting laboratory for further inspection.
In addition to their work with the cameras, the spacewalkers successfully replaced seismic scientific equipment with new and sophisticated earthquake-monitoring hardware.
Initially, the spacewalk was planned to last about 7 hours, but as the cosmonauts had to remove the cameras and return them to the station, they worked an hour longer. The delay turned out to be record-breaking.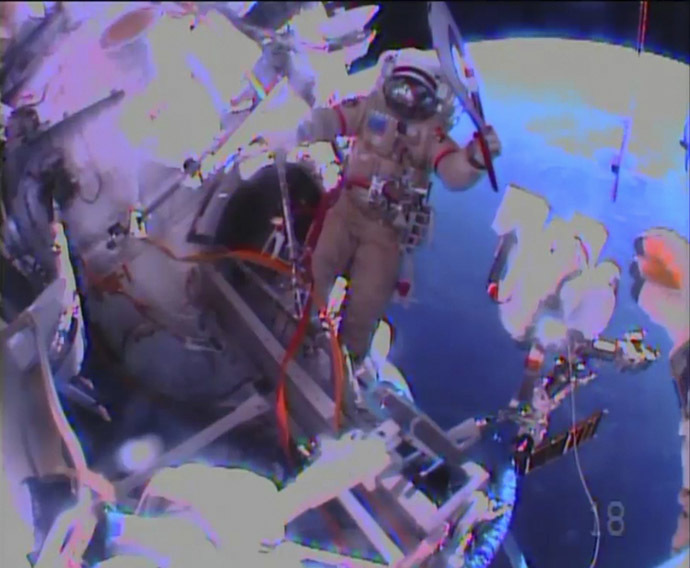 The other ISS crewmembers - Russian Mikhail Tyurin, NASA astronauts, Michael Hopkins and Richard Mastracchio, and Japanese astronaut Koichi Wakata assisted their colleagues from the station.
Kotov and Ryazansky have successfully completed the last of the Russian spacewalks scheduled for this year. The outing by Kotov and Ryazansky is the third spacewalk in a week at the orbiting laboratory, and the sixth in 2013 overall.
For Kotov, this spacewalk marked the fifth of his career, while for Ryazansky it was the second.
Last month the two cosmonauts broke another kind of record by carrying the Sochi Olympic torch into open space for the first time.
Friday's spacewalk eclipsed the record for the longest Russian spacewalk set by flight engineers, Fyodor Yurchikhin and Aleksandr Misurkin, who conducted a 7 hour and 29 minute spacewalk on August 16 this year.
However, the longest ever international spacewalk was set by US astronauts, Jim Voss and Susan Helms. They spent 8 hours and 56 minutes in open space on March 11, 2001, mission control said. But the astronauts spent nearly 2.5 hours of this time resting in a lock chamber, not working in open space as the Russian spacemen did.