Olympic torch spacewalkers dock at International Space Station
The crew who are to take the Sochi 2014 Olympic torch on its record-breaking spacewalk have arrived at the ISS after an express trip from Baikonur Cosmodrome in Kazakhstan. The torch will enter space on November 9th after its own launch on the 7th.
The Soyuz TMA-10M spacecraft carrying an American astronaut and two Russian cosmonauts has docked at the International Space Station. The mission which will last for 198 days will be marked by the special Olympics event.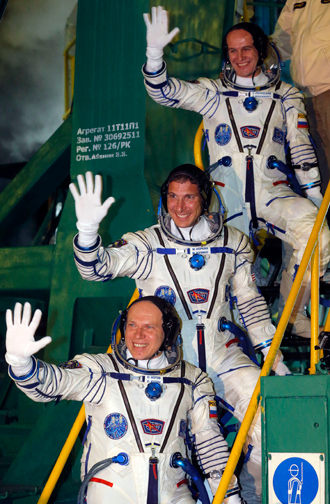 "We'll make it as beautiful and spectacular as we can. We want to make it memorable. Millions of people around the world will be able to see us at work and see what we do," Oleg Kotov, one of the '37th expedition' cosmonauts, told a press conference.

"You'll be able to see the outside of the ISS with earth in the background. We aim to make it a visual spectacle…but we don't want to give you all the details just yet!"  he said.

Kotov will be joined by fellow Russian Sergey Ryazansky, and Mike Hopkins from the US. They will be the first people in history to carry the Olympic torch into open space.

While the crew are relatively inexperienced – only Kotov has previously been in space – the other cosmonauts are enthused by the confidence he inspires. "I feel very confident, and part of that comes from our commander, who's obviously very experienced," said Hopkins.   

"They have dreamed about this – like we all did – from the time of childhood," US astronaut Michael Fossum told RT. "Now they're preparing to live that dream…they're looking forward to doing the job for which they trained for many years."

 

The torch will be delivered to the ISS on a rocket decorated with Olympic symbols. After it makes its journey through open space, the iconic sports artifact will be sent back to Earth along with the returning crew members.

Naked flames are prohibited from being carried inside a spaceship to the ISS, so the torch itself will not be lit as it makes its way into space. However, the very same torch will be used to launch the cauldron during the games' opening ceremony in February.

After the space walk in November,  the torch expected to return back to Earth on November 12, after which it will continue its journeys.

The entire Olympic torch marathon across Russia is set to begin on October 7 and will cover 65,000 kilometers in more than 100 days.

Other highlights, apart from the space walk, include climbing Mount Elbrus, the highest peak of Europe, as well as travelling to the bottom of Lake Baikal and the North Pole.
You can share this story on social media: