Two dead in fresh South African platinum violence
Published time: 12 Oct, 2012 00:50
Edited time: 12 Oct, 2012 04:50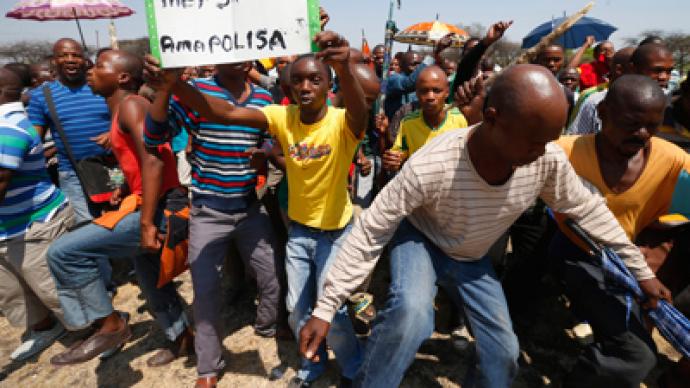 At least two people have been killed in South Africa after violence erupted during a workers' demonstration over pay at a platinum mine. Police fired rubber bullets to quell the angry crowd and arrested at least 40 people.
­"About 400 mineworkers gathered at the informal settlement around 6 am, and a man was shot," police Captain Dennis Adriao told the South African Press Association, adding that that another man was burned to death and a taxi was torched at the Anglo-American Platinum (Amplats) mine in Rustenburg.
Law enforcement was reportedly responding to the miners' attempt to stop operations at Amplats' Bathopele mine.

Tension is once again on the rise at the world's largest platinum producer after it sacked 12,000 workers last Friday, saying the Rustenburg protesters were "dismissed" after they failed to attend hearings.

Two more mining companies fired over 3,500 workers on Tuesday following Amplats' lead.
The miners vowed to stand for their rights until the very end. Only "over our dead bodies" would Amplats be able to hire new workers to replace the freshly fired ones, Evans Ramokga, a leader of the strike, told AP.
Since August, when workers employed by the platinum firm Lonmin began demonstrating over pay and working conditions, more than 75,000 miners at more than 20 mines across South Africa have taken to the streets. What seems to be a national movement now also involves workers in transport, auto and other sectors.
Tensions peaked in mid-August, when 34 people were shot dead by South African police during a large protest at a Lonmin mine. Twelve others were killed in separate incidents during the six-week protest.
The Lonmin workers have since gone back to work after getting a 22 per cent pay increase.
Meanwhile, it is estimated that weeks of strikes have cost Anglo-American $80 million.
On Thursday, the South African Cabinet expressed concern over the lawlessness and violence in the country.

"It is a fact that as a democracy, the right to strike is a defined right in South Africa that obligates the strikers to observe that they cannot encroach on other people's rights as they enjoy theirs," said Acting Minister for Performance Monitoring and Evaluation Richard Baloyi at a post-Cabinet briefing.
He called on strikers to use the appropriate channels to address their grievances, calling the strikes "illegal actions" that are tarnishing the country's international image, the South African Government News Service reported.
President Jacob Zuma has also strongly criticized the workers' actions, saying "violence should be condemned. We have mechanisms that allow people to engage on labor issues – violence should never be tolerated."